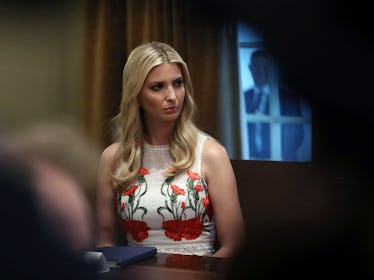 Ivanka Trump's Charlottesville Tweet Addressed This Thing That Donald Trump Missed
Mark Wilson/Getty Images News/Getty Images
It's been one year since the devastating violence during the Charlottesville riots resulted in many injuries and the death of one counter-protester. The impetus for the rally that turned deadly was the planned removal of a Confederate statue from Charlottesville, Virginia. Protesters who were against the statue's removal included white supremacist groups, neo-nazis, and the KKK. On the anniversary of the heinous incident, Ivanka Trump tweeted a message on Saturday, Aug. 11. Ivanka Trump's Charlottesville tweet condemned those aforementioned groups involved in the riot on Aug. 12, 2017, which is something that President Donald Trump's comment left out.
Ivanka tweeted her comments about the Charlottesville anniversary on Saturday night in a series of three tweets. It was her second tweet, though, that was the most straightforward in her condemnation of the racist groups. President Trump's eldest daughter wrote,
2:3 While Americans are blessed to live in a nation that protects liberty, freedom of speech and diversity of opinion, there is no place for white supremacy, racism and neo-nazism in our great country.
Now, it doesn't seem all that groundbreaking for someone to condemn such hateful groups, but it's something that President Trump has had a hard time doing ever since the violence broke out in Virginia in August 2017.
Trump tweeted earlier on Saturday about the Charlottesville anniversary. The president used a broader phrase to rebuke the groups of people who were involved in inciting the protest against the removal of the Confederate statue, writing, "I condemn all types of racism and acts of violence." Trump's full tweet read,
The riots in Charlottesville a year ago resulted in senseless death and division. We must come together as a nation. I condemn all types of racism and acts of violence. Peace to ALL Americans!
There's nothing terribly wrong with Trump's comment at first glance, but it was reminiscent of how he seemingly refused to condemn specific groups of the alt-right, like white supremacists and neo-nazis, when the violence broke out in Charlottesville on Aug. 12, 2017. Then and now, the president wouldn't have been off the mark in naming those groups, because the march was organized by those far-right groups that his daughter called out in her comment on Saturday.
Back in 2017, the president took more time than most people thought was necessary to actually condemn white supremacy. At the time — especially with the destruction that resulted from the rally — people looked to President Trump to call out white nationalist, white supremacist, and neo-nazi groups specifically. Trump went in the opposite direction when he placed blame for the attacks on "many sides." Trump said in a press conference in Aug. 12, 2017,
We condemn in the strongest possible terms this egregious display of hatred, bigotry, and violence. On many sides. Many sides. This has been going on for a long time in our country. Not Donald Trump, not Barack Obama. It's been going on for a long long time.
Needless to say, people were not here for Trump's "many sides" comment.
The August 2017 march was initially branded as the "Unite the Right" rally, and the far-right protest quickly turned so violent that Virginia Governor Terry McAuliffe declared a state of emergency on the morning of Aug. 12, 2017. It was on that same day that Heather Heyer, a counter-protester, was killed when a protester plowed his car into the crowd in Charlottesville. Two Virginia state troopers were also killed in a helicopter crash as they were on their way to assist with crowd management, per CNN.
It wasn't until Aug. 14, 2017 that President Trump finally said in a speech at the White House,
Racism is evil. And those who cause violence in its name are criminals and thugs, including the KKK, neo-Nazis, white supremacists and other hate groups that are repugnant to everything we hold dear as Americans.
Even so, Trump returned to his broader condemnation of "all types of racism and acts of violence" in his 2018 tweet on the matter.
In the end, it's positive to see Ivanka continually call out the hate groups in her comments about the Charlottesville riots, but it raises the question: why can't the President of the United States do the same?