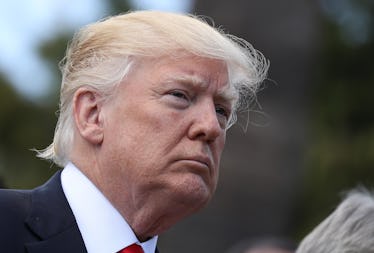 Donald Trump's Comment On The Charlottesville Anniversary Sounds Really Familiar
Sean Gallup/Getty Images News/Getty Images
I can't believe it's already the one-year anniversary of the Charlottesville riots — the incident on Aug. 11 and Aug. 12, 2017, where a rally of neo-Nazis, white supremacists, and the KKK in Charlottesville, Virginia turned violent and left a counter-protester dead. There's an outpouring of grieving reflections floating around on social media, and even President Donald Trump shared some comments on the startling tragedy. However, this Trump tweet on the Charlottesville anniversary sounds strangely familiar to comments you have heard from him before.
On Saturday, Aug. 11, the president took to Twitter to call for peace on the anniversary of the attacks, which started over the planned removal of a Confederate statue, writing:
The riots in Charlottesville a year ago resulted in senseless death and division. We must come together as a nation. I condemn all types of racism and acts of violence. Peace to ALL Americans!
The problem? The post basically mirrors the exact message he shared on Twitter in the wake of the incident back in 2017, where he refused to condemn white supremacists, so it seems kinda disingenuous and absolutely disappointing, if you ask me. Of course, he did address racism in this year's tweet when he wrote, "I condemn all types of racism..." but Trump still did not call out white supremacists by name.
In this particular tweet from Aug. 12, 2017, he wrote:
We ALL must be united & condemn all that hate stands for. There is no place for this kind of violence in America. Lets come together as one!
Some people immediately hopped on Twitter to call out Trump for not only sharing such a similar message, but for his own apparent hypocrisy.
Many Tweeters brought up other highly-controversial comments Trump made about the riot in 2017, in which he argued that there were very "fine" people on "both sides."
Others claimed Trump was racist himself, alluding to his incessant attacks on African Americans, including NBA superstar LeBron James and NFL players. In response to past claims of being a racist, Trump has repeatedly called himself the "least racist person," per The Washington Post.
The Charlottesville rally resulted in three deaths and dozens of injuries. Among the dead was 32-year-old counter-protester Heather Heyer, who was killed when a white supremacist plowed his car into a crowd of counter-protesters, according to The Washington Post. Two Virginia state troopers who were assisting in response to the violence were also killed.
Following the mayhem, Trump shared a vague condolence and brushed off the racially motivated attacks as something that had "been going on for a long, long time in our country" during a press conference on Aug. 12, 2017. He explained:
We condemn in the strongest possible terms this egregious display of hatred, bigotry, and violence. On many sides. Many sides. This has been going on for a long time in our country. Not Donald Trump, not Barack Obama. It's been going on for a long long time.
Tons of people, once again, took to social media to blast him for saying there were "many sides" to the violence.
It's been a year since the Charlottesville riots, so you'd think that would've been more than enough time for Trump to reflect on the incident and begin working with Congress and his administration to discuss solutions to prevent such a tragedy from happening again. But judging from this tweet, he's only begun to scratch the surface.