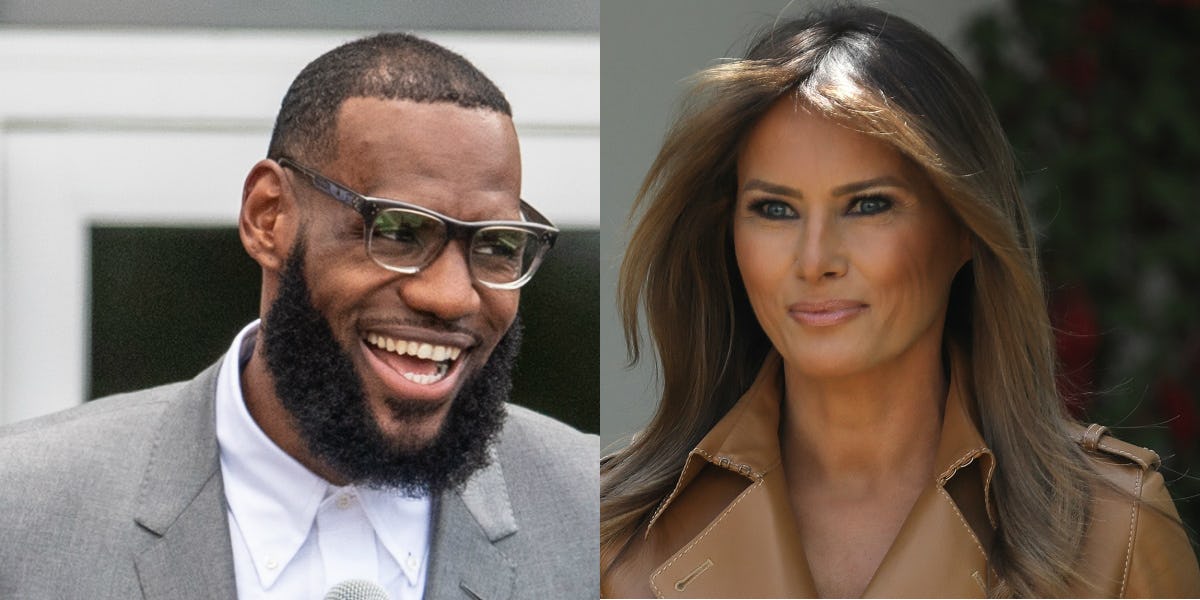 Melania Trump Had A Surprising Response To Donald Trump's Lebron James Tweet
Jason Miller/Getty Images Sport/Getty Images/Win McNamee/Getty Images News/Getty Images
Melania Trump has done an admirable thing: She stood against her husband President Donald Trump's harsh commentary on Twitter. The moment happened after President Trump launched a war of words on Twitter against his frequent critic, NBA star Lebron James, on Aug. 3 — just days after the athlete criticized him on CNN. In the wake of the Twitter attack, it looks like the first lady is recognizing James' contribution to his hometown community in Ohio. Melania Trump is even open to visiting Lebron James' I Promise school.
Following the basketball star's interview with CNN's Don Lemon about James' newly opened school for at-risk youth in Akron, Ohio, Trump took to Twitter on Friday, Aug. 3. He wrote,
Lebron James was just interviewed by the dumbest man on television, Don Lemon. He made Lebron look smart, which isn't easy to do. I like Mike!
That's not exactly the reaction you'd expect to James helping his hometown.
The first lady seemed to respect his good deed. Melania's spokeswoman, Stephanie Grisham, issued a statement to the Associated Press, saying James is "working to do good things" and that Melania would be open to visiting his new school. The full statement read, per CNBC:
It looks like LeBron James is working to do good things on behalf of our next generation and just as she always has, the First Lady encourages everyone to have an open dialogue about issues facing children today. As you know, Mrs. Trump has traveled the country and world talking to children about their well-being, healthy living, and the importance of responsible online behavior with her Be Best initiative. Her platform centers around visiting organizations, hospitals and schools, and she would be open to visiting the I Promise School in Akron.
Elite Daily reached out to Grisham for comment on when Melania might visit the I Promise school, but no dates were provided in reply at the time of publication.
If you're not familiar with how this situation came about, the drama started when James sat down for an interview with CNN's Don Lemon on July 30 to speak about the tuition-free I Promise school he recently opened for at-risk kids in his hometown, Akron, Ohio, however, the interview quickly turned political. At one point in the sit-down, James posited that Trump — who continues to rant against NFL players for kneeling during the national anthem — is "[using] sports to divide us."
The interview re-aired on Friday, Aug. 3, and Trump apparently caught wind of it that time, because he hurled insults at both James and Lemon. In his tweet, the president seemingly weighed in on the longstanding debate of whether James or Michael Jordan is the greatest basketball player of all time, saying he prefers the latter, while calling Lemon the "dumbest man on television."
Melania has been criticized almost routinely throughout her husband's tenure in the White House for her failure to speak up on a slew of issues, including the #MeToo movement, the highly-controversial family separation crisis at the border (The government says 1,979 of 2,516 separated children have been reunited with family or placed with sponsors, per an ABC News report from Aug. 3), and even Trump's own problematic comments.
Melania has also caught backlash for her initiative #BeBest, which aims to tackle cyberbulling, considering her husband's own tendencies to attack people on social media. But she appeared to have had enough by March, when she addressed her critics head-on during a meeting at the White House. In her remarks, Melania said that, although she knows criticisms of her will continue, they won't stop her "from doing what [she knows] is right." When asked in an email from Elite Daily if the first lady had a comment on President Trump's tweet that insulted James' intelligence, Grisham replied, "No."
Even so, the first lady's defense of James' good deed only further shows the public that Melania is growing more comfortable with standing up for things she believes in, and it's so commendable.