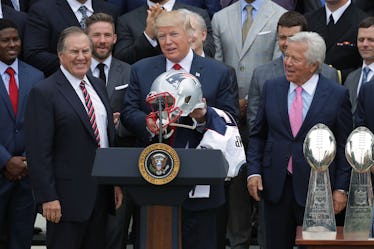 Donald Trump Wants To Ask NFL Players Who He Should Pardon Next
Chip Somodevilla/Getty Images News/Getty Images
On Wednesday, June 6, President Donald Trump issued his most recent act of clemency: granting a commutation to Alice Marie Johnson, a grandmother sentenced to life in prison in 1996 for a first-time drug offense. It's only been two days since that pardon, but as one of several in the last couple of months, it looks like the trend will only continue, leaving the country to wonder who Trump will pardon next. The answer may lie with the nation's best footballers.
According to reports, Trump says he wants to reach out to some of the most prominent players in the National Football League (NFL) for suggestions on who they think deserves pardoning. Speaking at the White House Friday, he told reporters:
I'm going to ask all of those people to recommend to me — because that's what they're protesting — people that they think were unfairly treated by the justice system. [...] And I'm going to take a look at those applications, and if I find — and my committee finds — that they were unfairly treated, we will pardon them, or at least let them out.
The president says he plans to ask for recommendations specifically from the very players who have drawn media attention (and the president's own ire) for protesting during the national anthem played prior to the games.
Trump's announcement is a surprising one, given his history with the players. Prominent 49ers quarterback Colin Kaepernick started the trend in 2016, taking a knee during the anthem to protest police brutality toward people of color. In the months that followed, players, coaches, and entire teams took up Kaepernick's cause. The gestures provoked Trump, setting off a feud with the president that has steadily gotten worse since he took office. The drama reached a boiling point in September 2017, when Trump said at a rally that players who protest should be fired.
In a concession to both sides, the NFL rolled out a policy in late May stating that players couldn't kneel on the sidelines during the anthem without penalty; however, they would be allowed to remain in the locker room.
The news that Trump was now seeking these players' input provoked a spate of reactions on social media.
In addition to announcing he planned to seek NFL players' input, Trump also said that he was also considering a posthumous pardon for boxer Muhammad Ali.
Celebrities apart from Kaepernick are seeking to bring attention to unfair treatment under the criminal justice system. Kim Kardashian met with Trump on May 30 to seek the pardon of Alice Marie Johnson, and to avail.
Trump seems to be getting generous with the idea of pardoning — perhaps a little too generous, to some. He's recently upped the ante in talking about the possibility of pardoning himself, saying as recently as Friday, June 8 that he had the power to do so.
According to the Department of Justice, Trump has granted five pardons and two commutations since taking office, including Alice Johnson. He has also reportedly begun the paperwork for an additional 30 pardons. That's a large number in comparison to recent presidents. As Quartz points out, none of Trump's three immediate predecessors issued any pardons in their first two years in office. (Trump's current rate is in line with previous presidents like Reagan, Ford, and Nixon.)
Trump's acts of clemency so far have signaled a trend of what some call favoritism for his political and personal allies. Among the six pardoned are conservative commentator Dinesh D'Souza and former Arizona sheriff Joe Arpaio, a Trump supporter deemed highly controversial for his brutal tactics in a crackdown on illegal immigration. New York Attorney General Barbara Underwood, per the Post, said Trump's pardoning of D'Souza showed "his willingness to use his pardon power to thwart the cause of justice, rather than advance it."
As for when and how Trump plans to reach out to the NFL players for recommendations wasn't immediately clear.