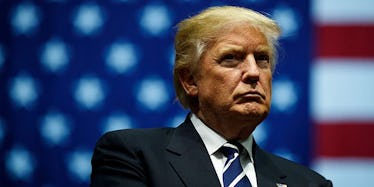 Trump Finally Responded To Charlottesville Violence But Totally Missed The Point
Drew Angerer/Getty Images
Virginia has declared a state of emergency in the wake of an alt-right rally that took a violent turn on Saturday morning and many people have taken to Twitter to condemn the demonstrators. After a few hours and many others calling him out for silence, President Donald Trump reacted to the Charlottesville violence, but his message leaves much to be desired. Trump's tweet about Charlottesville doesn't actually name white nationalists, the alt-right, or anyone else, and instead calls for ambiguous unity.
In a tweet posted at 1:19 p.m. ET, Trump said,
We ALL must be united & condemn all that hate stands for. There is no place for this kind of violence in America. Lets come together as one!
Immediately, people replied to the president's tweet with anger that he didn't specifically name white nationalists or any other specific groups involved in the violence. The situation began as a rally for a "Unite the Right" event scheduled to take place later on Saturday, but things escalated when the alt-right demonstrators clashed with counter-protesters.
In addition to videos of the violence, many people have shared videos of alt-right protesters chanting Nazi slogans and there have been reports of some demonstrators wearing Nazi regalia. With so much hateful speech being at the center of this violence, many hoped President Trump would outright condemn the white nationalists and were disappointed to see that his response (which you can see below) was a much broader request for America to "come together."
About 40 minutes later, Trump tweeted again, but still didn't name any groups. This time, he just said that he's in Bedminster, New Jersey and is having meetings and a press conference on the situation, and then used one of his favorite words to describe the violence: Sad!
Again, people were not pleased.
We'll have to wait and see if Trump takes a firmer stance in his press conference, but for now, many Americans are disappointed with his response to the violence and hate in Charlottesville.