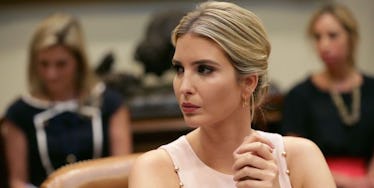 People Are Looking For Ivanka Trump's Response To The White Nationalist Rally
Chip Somodevilla/Getty Images
As a state of emergency is declared in Virginia, many people are waiting to hear Ivanka Trump's response to the Charlottesville rally. A white nationalist demonstration began in Charlottesville, around the University of Virginia campus, on Friday Aug. 11. Violence has broken out as counterprotesters emerged into Saturday.
This is a pretty extreme situation, and the Virginia National Guard was called in. The white nationalist rally has included Confederate flags and Nazi slogans and demonstrators gathered around a statue of Robert E. Lee, the leader of the Confederate Army during the Civil War, according to the New York Times.
UPDATE: Trump responded to Saturday's events early on Sunday morning in a pair of tweets that condemned white supremacy and called on Americans to come together united. After her father faced criticism for refusing to mention white supremacy in his remarks on the violence, she wrote that "there should be no place in society for racism, white supremacy and neo-nazis."
In a short press conference a few hours after the first death was confirmed, President Trump refused to acknowledge white nationalism as a factor in the violence in Charlottesville, or say that he didn't want the support of white supremacists. However his daughter did denounce it, while also echoing his themes of unity in the face of division. See her tweets below.
EARLIER: The Charlottesville protests turned violent on Saturday, with fights breaking out, and there are reports that a car drove into a crowd of people. President Donald Trump has responded on Twitter, as have other major politicians and Chelsea Clinton.
One prominent voice people have not yet heard from, however, is that of Ivanka Trump, first daughter and official White House employee. Trump, along with her husband Jared Kushner, have positioned themselves as the more progressive members of the White House. There have been reports that they tried to push the president to be more progressive on issues about the LGBTQ+ community, women, health care, and religion.
Trump and Kushner, meanwhile, are also Jewish (Trump converted to marry Kushner) and are devout followers of the religion. The white nationalist rally has included anti-Semitic sentiments, with demonstrators reportedly chanting "Jew will not replace us."
Many people are also calling Ivanka Trump out for her father's relationship to white nationalist groups, who supported his presidential campaign (the Ku Klux Klan's official newspaper endorsed Trump). Meanwhile, it's been reported that white supremacist activities on college campuses have increased since Trump was elected.
With all these factors at hand, people are wondering if Ivanka Trump will comment on the white nationalist rally.
As of publication time, Trump last tweeted early Friday evening, with a tweet about a job creation meeting. Her last Instagram featured the same image and was posted around the same time. We'll see if she has anything to say about the white nationalist violence in Charlottesville.