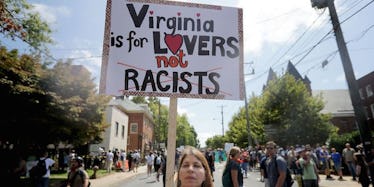 Trumps, Clintons, And More Respond To Charlottesville White Nationalist Rally
Chip Somodevilla/Getty Images
Members of the Trump and Clinton families, as well as major politicians, have responded to the white nationalist rally that has been going on in Charlottesville, Virginia. White nationalists have gathered around the campus of the University of Virginia, and with counterprotests, the situation turned violent by Saturday, Aug. 12. In response, the Trumps and Clintons have tweeted about the Charlottesville rally, along with politicians.
White nationalist demonstrators began a protest on Friday, Aug. 11, where they chanted phrases like "you will not replace us." The rally has featured Confederate flags and Nazi slogans and happened around a statue of Robert E. Lee who led the Confederate Army during the Civil War.
Videos show violence emerging in Charlottesville as white nationalists and counterprotesters clash. Virginia Governor Terry McAuliffe declared a state of emergency on Saturday, and the Virginia National Guard was called in. McAuliffe said in a statement, according to The New York Times,
It is now clear that public safety cannot be safeguarded without additional powers, and that the mostly-out-of-state protesters have come to Virginia to endanger our citizens and property. I am disgusted by the hatred, bigotry and violence these protesters have brought to our state over the past 24 hours.
President Donald Trump said on Twitter on Saturday that "we ALL must be united & condemn all that hate stands for."
Vice President Mike Pence echoed his statement, saying the country is stronger when we "oppose those seeking to divide us."
Trump's Charlottesville tweets are facing criticism, however.
First Lady Melania Trump tweeted that "freedom of speech" must be "w/o hate in our hearts."
The first lady's tweet was similar to one from former President Bill Clinton, which also mentioned "free speech and assembly."
Bill Clinton, however, did specifically call out white supremacy.
Chelsea Clinton has been tweeting and retweeting about the white nationalist rally.
Here are some tweets she has retweeted:
Before the president's tweet came in, she tweeted:
Major politicians, including Marco Rubio, Kamala Harris, and Bernie Sanders, have also responded to the protests.
Tweets are all well and good, but we'll see what these politicians' actions reflect.