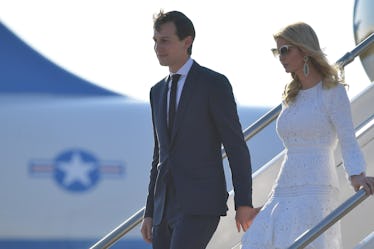 Ivanka Trump's Anniversary IG To Jared Kushner Is Actually Pretty Classy
MANDEL NGAN/AFP/Getty Images
Though the name "Trump" isn't exactly synonymous with marital stability, it looks like the first daughter is bucking the odds. On Oct. 25, she celebrated a double-presidential term's worth of matrimony with her husband, when Ivanka Trump posted an anniversary Instagram to Jared Kushner. And, well... it's pretty darn classy.
Now listen: I definitely have my problems with Ivanka Trump. She's in a job she's not qualified for, which she got solely via nepotism and the fact she's the president's daughter. She's not an elected official and has no experience in government, and yet she represents the United States on the world stage. Her brand of feminism is pretty limited to upper-middle class white women at best, and is blatantly hypocritical at worst. She professes to be an advocate for issues that she won't stand up to her father on. Oh yeah, and her jewelry is tacky.
But damn if I will come at her for her relationship. She and Draco Malfoy, I mean Jared Kushner, seem legitimately happy together.
On Oct. 25, their eight year anniversary, Trump posted a simple shot from the couple's wedding to her Instagram. The caption read, "Happy eight-year anniversary to the love of my life!" followed by a heart emoji. It's a pleasantly low-key and elegant image from a woman whose family taste is known to tend more towards gold-gilt everything, and whose father has basically made the word "classy" an insult.
Listen, whatever opinions we all have of Ivanka and Jared themselves (and oh, we do), you have to admit that a multi-year marriage is nothing to sneeze at, particularly when you're both in the public eye.
The couple, who have three children, Arabella, 6; Joseph, 4; and Theodore, 1; married in 2009 (at Trump National Golf Club in Bedminster, NJ — natch). And eight years and three kids later, it looks like they're still doing well, public Instagrams entirely aside. Body language expert Susan Constantine told Elite Daily back in June that the couple's posture and facial expressions advertised respect and admiration for each other (notably, in contrast to President Trump and First Lady Melania Trump, who she described as in "discord").
Honestly, the two do seem pretty well suited. For one thing, they're apparently both huge workaholics who talk about their relationship in business terms. In a profile in Vogue in 2015, Kushner had some weird (but sweet, I guess) praise for his wife. He said,
I would say she is definitely the CEO of our household, whereas I'm more on the board of directors. We both pick up slack for each other where it's needed, but she doesn't want to outsource mothering, so she's very involved.
And Trump apparently gives as good as she gets — she told Harper's Bazaar in 2014 that weekend "date time" with her hubby involved looking at properties that the couple owns. No, seriously.
She said,
I try really not to try to schedule anything on the weekends, though just because of what we're passionate about, Jared and I will go walk around neighborhoods and look at properties that he owns and that I own, but that's fun.
Hey, to each their own. My boyfriend and I don't own any property, either together or separately, but we have spent entire weekends walking around to various sandwich shops while discussing the cultural meaning behind Harry Potter. I guess cute is in the eye of the beholder, or at least the eye of the landlord.
Anyway, now the couple has even more in common, as they both finagle to influence public policy from their seats behind the throne at the White House. The pair are both currently White House advisers to Trump's father, President Donald Trump, where they reportedly influence the path of the nation with less experience in government than your average poli-sci major doing their first internship.
Well. It's probably a bonding experience.