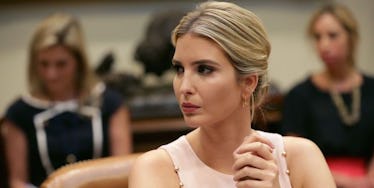 Twitter Is Roasting Ivanka Trump With "Ivanka Guarantees" Jokes After A Blistering Op-Ed
Chip Somodevilla/Getty Images
If you feel like you're being gaslit by Ivanka Trump, you're not alone. "The Ivanka Trump Guarantee," a scathing op-ed written by New York Times contributor Lindy West, perfectly unpacked the hypocritical, wishy-washy role that Trump has played in The White House thus far. As an added bonus, the piece also prompted a whole slew of tweets about "Ivanka Trump Guarantees" – which were both savage and highly creative.
To start, let's look at what Ivanka Trump's guarantee was supposed to be. She positioned herself as a champion for women, children and underprivileged Americans, spouting neatly packaged talking points about gender equality and closing the pay gap. She tweeted out support during Gay Pride month and condemned the white supremacists who took to the streets in Charlottesville, Virginia (without acknowledging the fact that those people were, in fact, supporters of her father).
And yet, as her father passes legislation after legislation that clamps down hard on the vulnerable, the first daughter sits in radio silence.
That is because, West points out, Trump is not a real advocate for women. Instead, she'll talk endlessly and vaguely on social media about  "child care credit" and "female entrepreneurs"  and ignore pretty much everything else that's going on. West wrote, 
A real advocate for women's power and prosperity would be devastated by President Trump's decision to end the Deferred Action for Childhood Arrivals program, which will shatter the lives of hundreds of thousands of immigrant women and the people who depend on them. A real advocate for women's autonomy would fight indefatigably for affordable health care and abortion access.
But what can Trump guarantee us? According to Twitter:
She'll keep making her products outside of the United States...
She won't actually live up to her promises...
And she'll make decisions on par with her father.
Oh, and then there were those who never bought the Ivanka Trump Guarantee in the first place.
At the very least we know there's a pattern. Donald Trump does something despicable, and Ivanka Trump takes to social media, in her best powder pink dress, to make some vague, irrelevant statement about entrepreneurs. #TheIvankaTrumpGuarantee, right there.