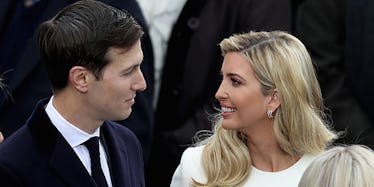 Ivanka Trump And Jared Are "Ultimate Power Couple" According to Celeb Matchmaker
Joe Raedle/Getty Images
The internet was already well aware of how cute Ivanka Trump and Jared Kushner look as a family. But how about as a couple?
We spoke with Alessandra Conti of Matchmakers in the City, a celebrity matchmaking service, to get her take on the relationship.
When asked about Ivanka and Jared as a couple, Conti says,
Even the most avid Trump-haters cannot deny that Jared and Ivanka are the ultimate power couple.
At this point, Conti's right. Despite investigations into the Trump administration, Ivanka and Jared have become two of the most powerful people in the country thanks to Donald Trump. Whether that's exactly ethical is up for discussion, but facts are facts.
Conti went on to talk about how they met. She says,
While I did not introduce the pair, they were introduced by a mutual friend who thought that they could do business together in real estate. Once they realized that there was a connection beyond business, they began to date. I love these two as a couple: Jared is a Jewish man from New Jersey.  He went to NYU and seems to value Ivanka as a partner in crime as opposed to a submissive wife.
Does it matter that we don't see or hear much about them as a couple? Although the two are public figures within the Trump administration, they're not often conspicuously together in public.
According to Conti, seeing and hearing less of a couple might actually be a good sign.
When asked what she looks for in successful, healthy relationships, Conti says,
The less we hear about celebrity couples, the better they seem to be in my experience. There are celebrity couples who maximize their dual public influence for monetary gain, and ultimately these couples tend to have more issues than couples who keep a public persona and private persona. When I am matchmaking influencers and public figures, I typically like to match them with a successful person who is not in the public eye as opposed to another celebrity. I always say: you need a diamond and a setting in every relationship.
Conti didn't say who would be the diamond or the setting in this particular example, so we'll leave that to the internet.