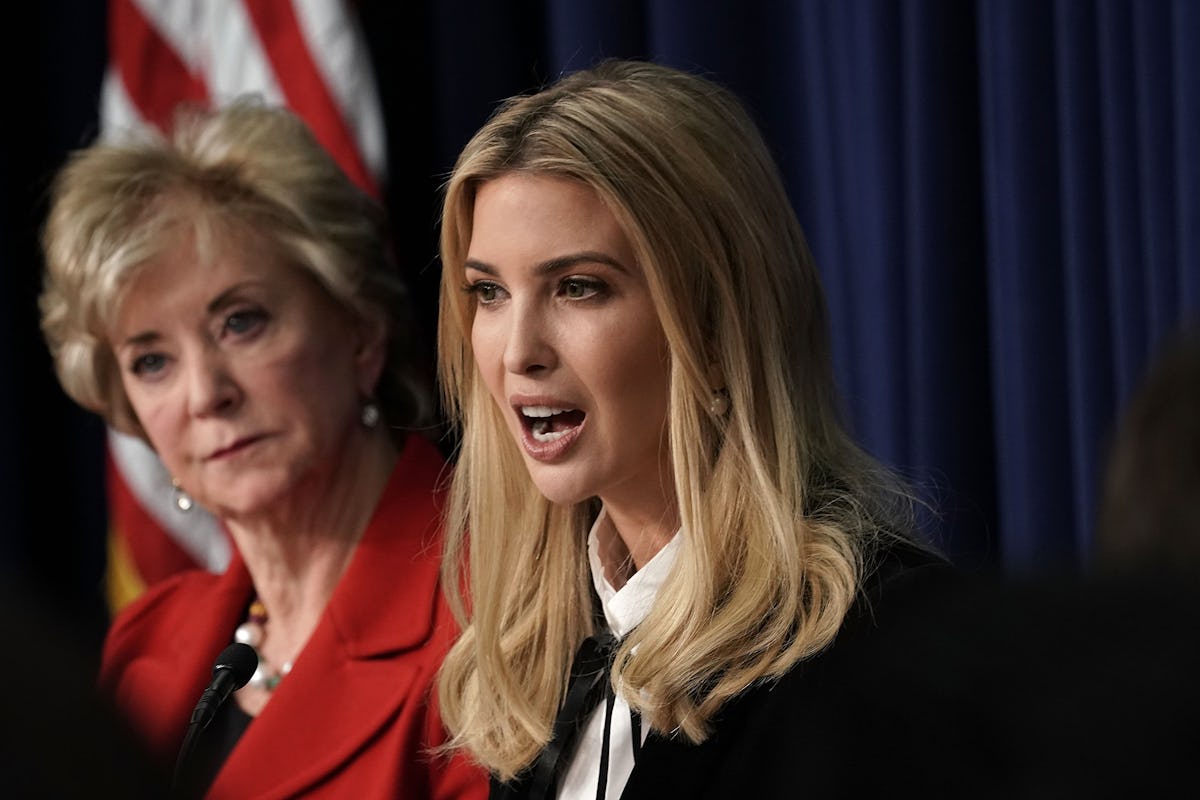 Ivanka Trump Will Reportedly Revamp The White House Staffing In A Major Way
Alex Wong/Getty Images News/Getty Images
There has been continuous speculation regarding the fate of White House Chief of Staff John Kelly's position in the White House and it looks like we've finally gotten an answer. After months of escalating tensions between Donald Trump and Kelly, the search for a new chief of staff is reportedly underway, and Trump has supposedly called on one of his closest allies to lead the way. On Monday, Jan. 22, Vanity Fair reported that Ivanka Trump will help pick a new chief of staff.
The first daughter is reportedly leading an effort to find a replacement for Kelly. A source told the publication that "Ivanka is the most worried about it. She's trying to figure who replaces Kelly." However, it may be awhile before Kelly leaves office. The magazine also reported that the chief of staff's departure isn't "imminent," as their source said that Kelly "wants to stay longer than Reince [Priebus]." Another source added, "This could be like [Jeff] Sessions," referring to Trump's frustrations and rumored desire to replace the attorney general.
Elite Daily reached out to the White House for comment on the report, but did not hear back by the time of publication.
The relationship between the president and Kelly has been deteriorating for months.
Last week, President Trump was reportedly "furious" at Kelly after the chief of staff allegedly called Trump's campaign promises on immigration "uniformed," according to The Hill. Kelly also said that the president had "evolved" past his previous stances on immigration, including building a border wall — which Trump reportedly believed made him look like he was giving into demands made by Democrats.
He fired back with a tweet that read, "The Wall is the Wall, it has never changed or evolved from the first day I conceived of it."
After Kelly took the office from former White House Chief of Staff Reince Priebus last July, he sought to bring order to the White House's tumultuous staff. However, other employees reportedly scoffed at his integrity, nicknaming him "Church Lady," according to The Washington Post.
The Vanity Fair article further backs that claim, detailing accounts from sources who allege that Trump has complained to friends that Kelly acts like he's in charge while the president "tweets and watches television." A Republican close with the White House reportedly said, "The more Kelly plays up that he's being the adult in the room — that it's basically combat duty and he's serving the country — that kind of thing drives Trump nuts."
President Trump has had a long history of losing White House staff.
After a six-month tenure, former White House Chief of Staff Priebus was replaced by Kelly in July 2017. Rumors circulated that the president often mocked and complained to other staffers about Priebus' lack of direction and initiative, even belittling him with the nickname "Reince-y," according to Vanity Fair. Trump also repeatedly brought up Priebus' calls for him to quit the race during his presidential campaign, according to Vox.
On July 21, 2017, then-Press Secretary Sean Spicer also resigned from his position following a wild six-month tenure, saying he hoped it would give the administration a "clean slate." According to reports, after President Trump appointed Anthony Scaramucci as Spicer's new communication director, the secretary rejected the president's offer to work as Scaramucci's subordinate, expressing his distaste for the decision. The New York Times reported that Spicer was tired of "constant criticism," and "being blindsided" by the president. He was replaced by Sarah Huckabee Sanders.
Ten days after Scaramucci took office, he too was fired from his position after making R-rated remarks about White House senior staff during a wild phone call with Ryan Lizza, a reporter for The New Yorker, in which Scaramucci said White House Chief Strategist Steve Bannon wanted to "suck his own c**k." Hope Hicks later replaced Scaramucci, becoming the third communications director in less than eight months.
Barely a month later on Aug. 18, Bannon himself left the White House, reportedly part of a "mutual" agreement between himself and Kelly.
If Ivanka Trump is leading the search for a new chief of staff, it could be a step in a new direction — but at this rate, there's no way to tell how permanent this role will be either. Screw it, where's Oprah?