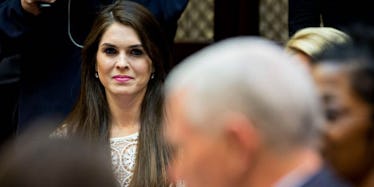 Trump Names New Defense Against The Dark Arts — Oops — Communications Director
Andrew Harrer-Pool/Getty Images
Being the White House communications director seems to be a lot like being the Defense Against the Dark Arts Teacher at Hogwarts in the world of Harry Potter. In other words, people in these positions typically don't last very long and tend to be fairly eccentric (The Mooch and Gilderoy Lockhart are definitely kindred spirits). Speaking of which, the White House communications director position is currently vacant after the ousting of Anthony Scaramucci, who lasted just 10 days on the job. But, according to CNN, Senior Communications Adviser Hope Hicks has been named White House communications director, at least for the time being. Her official title is interim White House communications director. The White House reportedly said it will make a decision on a permanent communications director at "the appropriate time."
This represents yet another shift in staff in a chaotic White House that's seen an unusual number of people resign or be dismissed from top positions in President Donald Trump's first year. Hicks will be the fourth person to hold the title of communications director in less than seven months. Elite Daily reached out to Hicks for comment but did not hear back at the time of publication.
Who Is Hope Hicks?
Hicks is 28 years old, a native of Connecticut, former model, and longtime Trump aide. She served as a spokeswoman for the Trump campaign and the Trump Organization. According to an in-depth piece on Hicks by Olivia Nuzzi for GQ, Hicks first started working for the Trump Organization back in 2014. Prior to that, she worked for Hiltzik Strategies, a New York public relations firm founded by Matthew Hiltzik. While working at Hiltzik Strategies in 2012, Hicks was sent to help with Ivanka Trump's fashion line and quickly established a relationship with her. This is what ultimately led her to the Trump Organization, where she was eventually noticed by the future President of the United States and tapped for bigger roles. Other than her experience working for the Trump campaign and now in the White House, Hicks has no prior political expertise.
As communications director, Hicks will be responsible for ensuring the daily message of the White House is clear and straightforward. With a man like Trump in office, she definitely has her work cut out for her.