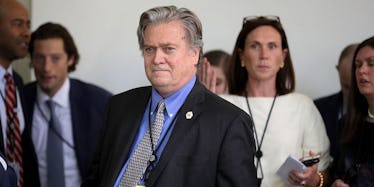 Donald Trump Will Reportedly Fire Steve Bannon And Twitter Is Already Celebrating
Chip Somodevilla/Getty Images
Many Americans have been tweeting and asking President Donald Trump to fire Steve Bannon for months, but the demand has really increased in the past week following the events in Charlottesville, Virginia. On Friday, Aug. 18, the New York Times reported that Twitter finally got its wish, and Trump has decided to fire Bannon. According to two unnamed administration officials, the president is just trying to figure out exactly when how to do it.
Update: TMZ has reported that White House press secretary Sarah Sanders released the following statement on Bannon's departure: "White House Chief of Staff John Kelly and Steve Bannon have mutually agreed today would be Steve's last day. We are grateful for his service and wish him the best."
Earlier: However, that's just one side of the story. A source close to Bannon told the New York Times that it was actually Bannon's idea to leave, and he resigned way back on Aug. 7, but they delayed the announcement. Matt Drudge of conservative website The Drudge Report also tweeted on Friday that Bannon is out at the White House, without going into further detail. Either way, it seems like Bannon won't be the White House chief strategist much longer, and Twitter couldn't be more excited.
Bannon has always been a controversial figure in the White House (though he's far from the only one), particularly because he previously ran Breitbart News, an extremely conservative organization with ties to the alt-right. After an alt-right rally in Charlottesville last weekend turned violent when white supremacists clashed with counter-protesters, more people were calling for Bannon to be removed from office than ever.
Now, it seems like it's finally happening, and whether Bannon is being fired or leaving on his own, Twitter could not be happier. The general consensus seems to be: it's about damn time.
Others decided to focus on what Bannon could be doing next.
White supremacy was also a common theme among the Twitter reactions.
Strangely (and hilariously) enough, tons of Twitter users turned to Harry Potter for their reactions and made very similar jokes.
Whatever the final straw was, these tweets show that for those against Bannon, this has been a long time coming.