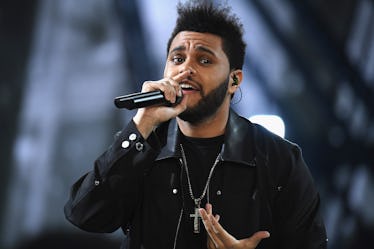 The Weeknd Shared The Sweetest Message About His Grammys Win & Fans Are So Proud
Pascal Le Segretain/Getty Images Entertainment/Getty Images
The Weeknd has been nominated for 10 Grammys so far in his career. His top hit, "Can't Feel My Face," in 2015 was that song we couldn't turn off when it came on the radio, and it brought him to the mainstream. And since the 60th edition of the awards show gave him even more nominations, you might have been wondering if the Weeknd would be at the 2018 Grammys. He wasn't seen walking the star-studded red carpet on Sunday night, and it's safe to say we're sad AF.
The singer was nominated for Best Urban Contemporary Album, and won the award this year for Starboy, but he wasn't there to accept it. Of course, his loyal fanbase on social media literally could not even handle it. The Weeknd took to Instagram to post the exciting news of his win, along with, "thank you @recordingacademy , couldn't have done it without my team and my fans #history#backtoback." Proud fans were quick to comment and send all of the good vibes his way.
The Canadian singer won two Grammys in 2015 as well. One was for Best R&B Performance for "Earned It," which was featured on the Fifty Shades of Grey soundtrack. His other Grammy was Best Urban Contemporary Album for Beauty Behind the Madness. The award this Sunday night is the artist's third Grammy win.
It's safe to say that for becoming popular in 2015, he's certainly taken home a lot of awards for all of his fresh and new musical contributions. His voice continues to make an amazing mark in the music industry, and his angelic vocals will forever leave a permanent mark on our hearts.
Fifty Shades of Grey wasn't the only sexy piece of work The Weeknd was an essential part of. He also performed at the 2016 Victoria Secret's Fashion Show. Before the event, he was dating Bella Hadid, but they broke up just before the iconic show (after dating for over a year). Honestly, even though they had broken up, they still blessed us with many picturesque moments as Hadid glided down the runway and The Weeknd made our hearts melt with his voice.
At the 2016 Grammys, The Weeknd was spotted with Bella Hadid on the red carpet. The two were dressed in all black outfits and Bella Hadid was looking as gorgeous as can be. No one could stop swooning over how fierce this couple looked as they worked the red carpet. Real talk, though — our jaws were all on the floor.
Of course, we all continued to be on top of The Weeknd's dating life when he and Selena Gomez got together. Jelena fans were crushed at the idea that Selena had seemingly moved on. Their hope was restored when The Weeknd and Selena Gomez broke it off during the last few months of 2017. We knew it was officially over, because he deleted all of the pictures of Selena from his Instagram. That's some serious stuff.
In other news, the Weeknd has linked up with Kendrick Lamar for the highly anticipated Black Panther soundtrack. The movie, with a predominantly black cast, hits theaters Feb. 16 and will be one of a few Marvel movies to come out in 2018. Both of their styles combined would have anyone incredibly hyped to see what their musical collab is going to result in. Yes, all of us comic book fans are certainly geeking out.
Hey, I know the actual weekend is only two days long, but I could listen to or read about this guy everyday of the week, am I right or am I right? On Sunday night, the Weeknd took home the title of being the very first artist to win the Best Urban Contemporary Album category at the Grammys twice. Hallelujah to that! It is truly well-deserved, and his fans could not agree more.