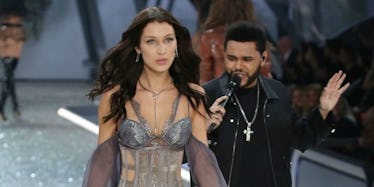 Bella Hadid Opens Up About Split From The Weeknd: 'I'll Always Love Him'
REX/Shutterstock
On February 12, The Weeknd rocked the Staples Center with his performance at the 2017 Grammys.
Now, it appears it's his ex, Bella Hadid's, turn to steal the spotlight.
The 20-year-old model recently sat down with Teen Vogue for an extended interview, and during the chat, she talked about everything from her recent Victoria's Secret Fashion Show appearance to her first real love: a horse named Lego.
Speaking of love, naturally, Hadid also opened up about her recent split from The Weeknd.
After dating for over a year, the pair broke off their relationship last November, and in this Teen Vogue interview, the 20-year-old model gave some real insight into the split and how she's feeling now.
Speaking on her breakup, she said,
It was my first breakup — or second, next to the horse — and so public. As an outsider, you might think I handled it so well, but it's always in your heart, and you always feel it very heavily.
She continued,
It'll be hard for a while. Love hurts, but you have to pull through.
Damn. I feel you, Bella.
However, it appears Hadid, at least for the time being, still has quite the soft spot for The Weeknd.
She added,
But I'll always respect him, and I'll always love him. Sometimes you want to be sad about it or handle it differently, but at the end of the day, you never want to burn a bridge that you've fought so hard to build.
Wow! I have to say, this is incredibly mature.
I know where my head was at when I was 20, and I definitely would not have been able to have this kind of clarity and peace after a difficult breakup.
In case you were wondering, since I mentioned it earlier, here's what Hadid had to say about her love of horse, Lego:
I rotated between a few horses that could jump higher or whatever. But Lego was my main, my ride or die. When I had to sell him, it was like a breakup! I was really traumatized. You can ask any equestrian: You develop a crazy, emotional connection with this animal. When you're riding a horse, they have full control over you, and they can literally kill you in a second, so you build a trust with them.
I'll take your word for it, Bella!
Fair or unfair, it appears Hadid takes a good amount of criticism at times, and I hope this interview gets the haters to back down just a bit.
Citations: Bella Hadid Opens Up About The Weeknd and Parting Ways With Her Horseriding Dreams (Teen Vogue)