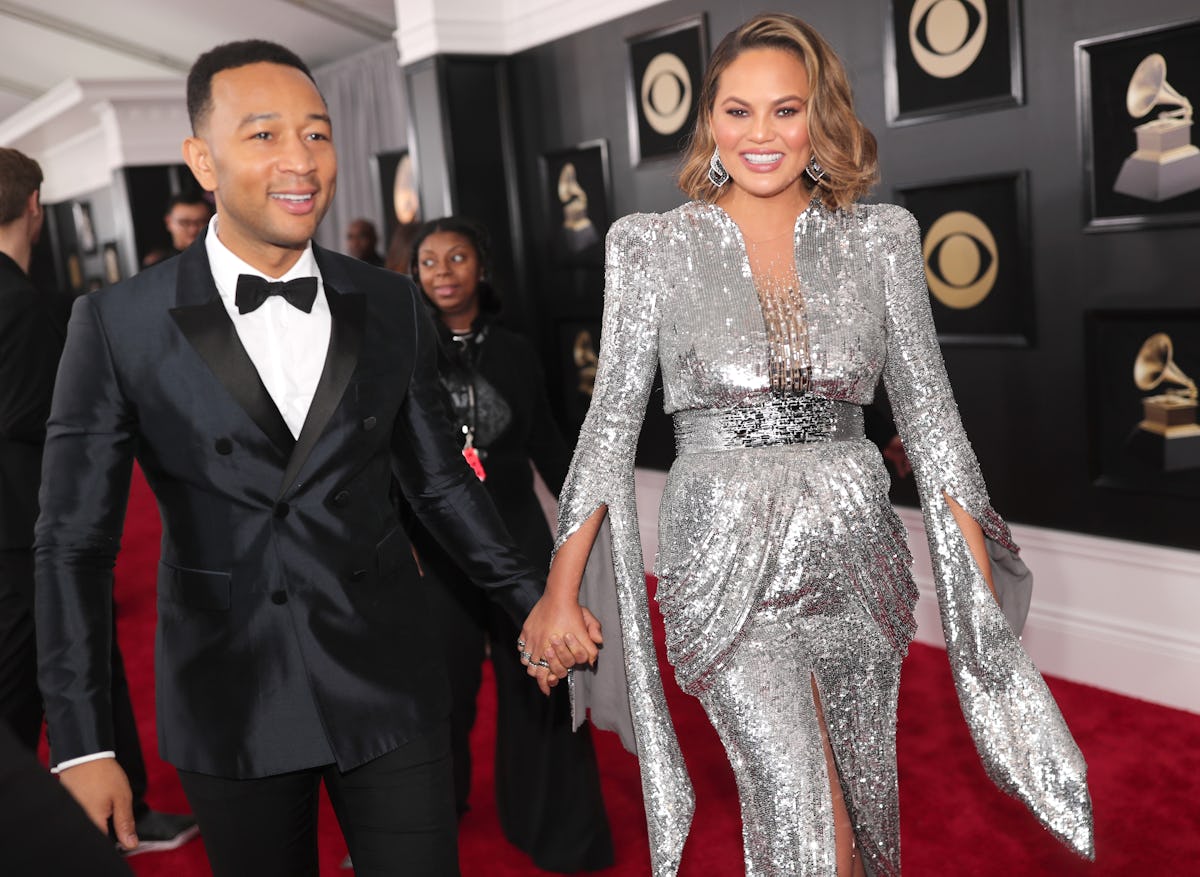 John Legend & Chrissy Teigen Talking About Toilets & Whiskey At The Grammys Is Amazing
Christopher Polk/Getty Images Entertainment/Getty Images
While A-list celebrities are always fun, we all know two in better than one. The couples of the red carpet draw double the attention, whether it was Bennifer long ago or Brangelina up until a year or so ago. But when it comes to the music business, there's no bigger couple than John Legend and his wife Chrissy Teigen. The red carpet has been missing them so far this year, but we're in luck, because they're here, and John Legend and Chrissy Teigen's Grammys interview was one for the internet ages.
Why? Because while Chrissy once again showed off how red carpet maternity wear is done, John Legend was talking about toilets, specifically the one they tried to have installed in their house. Except it didn't work out. Because when the contractor takes out your current toilet before they have the one you ordered to replace it (and your wife is pregnant?) that's not going to work.
But that sort of storytelling is why John and Chrissy are as popular as they are. As fans say, it's what makes them so relatable, even if it's talking about things one wouldn't expect to be a topic of conversation with Ryan Seacrest... like the trials of trying to have one's toilet upgraded to one of those fancy ones they make in Japan that double as a bidet, or as Legend called it "the kind that washes your butt."
Check out their red carpet arrival video:
There was a question tonight if Legend and Teigen would be here at all, considering they hadn't attended a major red carpet yet this year. But it was one thing for to sit out the Golden Globes, especially considering that Legend was snubbed for his work on Beauty and the Beast.
Some might have thought that Chrissy also might have advocated staying home because of her impending motherhood. But anyone who thinks that doesn't know Teigen. This is a woman who can rock anything on the red carpet and has, including maternity wear. You really think a little belly is going to keep her at home? This is a woman who showed up to the Grammys last year with fun dip still all over her hands.
If Chrissy Teigen doesn't come to an event, it's not because she's pregnant. It's because she chooses not to grace them with her presence.
Now, John Legend isn't actually up for anything this year at the Grammys either. (Which is a little surprising, considering the sheer amount of categories.) but this is different. The Grammys are their home turf, the music world. Going to the event is as much a networking "seen and be seen" event as it is an awards show. And this is also where many of their friends in the business will be. So there are reasons to turn up, other than just winning.
John Legend spent most of his red carpet interview hawking his next project, Monster, which his company, Get Lifted Film Co. partnered with Bron Studios and Tonik Productions to co produce. it comes out later this year, and he is expected to be producing the soundtrack as well. It stars Oscar winner Jennifer Hudson as well as A$AP Rocky and Nas. Here's the synopsis:
Steve Harmon (Harrison), a 17-year-old honor student and aspiring filmmaker who prosecutors deem a "monster" after being charged with felony murder for a crime he says he did not commit. As Steve's world comes crashing down around him, we witness his journey from a smart, likable young man from Harlem attending an elite high school through a complex legal battle that could leave him spending the rest of his life in prison.
He also admitted he'd done shots of whiskey on the way over, because he had to drink for two. "Three," Chrissy corrected him. No, she's not having twins. But since she is with child, he might as well drink for the kid too. Wouldn't you?