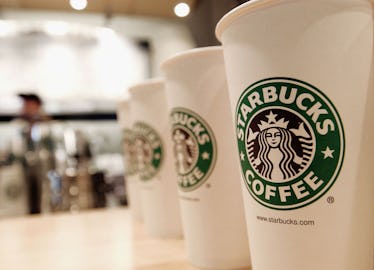 This Lucky U.S. City Is Testing Uber Eats For Starbucks, So Fingers Crossed
Stephen Chernin/Getty Images News/Getty Images
You have no idea how many mornings I've spent sitting in bed wishing that Starbucks would delivery coffee to my house. Call me lazy, or call me a genius — but I think a Starbucks delivery system would be successful AF. If you agree, you might be asking yourself if Starbucks is on Uber Eats. I mean, that would be the next best thing... right? Lucky for you (and me), the coffee chain is testing delivery via Uber Eats in one lucky U.S. city. Once you find out which city I'm talking about, your gonna want to grab your beach bag.
Surprise: I'm referring to Miami, Florida. According to Starbucks, the coffee chain is currently testing Uber Eats in more than 100 stores in the Miami area (Miami-Dade and Broward counties, specifically). A Starbucks spokesperson provided Elite Daily with a statement regarding the Uber Eats experiment, which says,
We're in the initial stages of testing a new way for customers to enjoy Starbucks with Uber Eats, currently available from more than 100 participating stores in the Miami area. We're always testing new products and experiences for our customers and look forward to hearing their feedback — and we look forward to sharing more details at a later date.
If I lived in Miami, I know for a fact I'd be ordering PSLs to my front door all autumn long.
However, it seems like not all Starbucks drinks are available for delivery via Uber Eats in the Miami-Dade and Broward counties. Apparently, Uber Eats told Nation's Restaurant News that "select items from the Starbucks menu will be available, featuring favorite items that have been tested for delivery." According to the publication, the Caramel Frappuccino has been the most popular order when it comes to Uber Eats deliveries. (Again, I'd probably opt for the PSL if I could.)
If you live in Miami near the participating Starbucks locations, go ahead and order coffee in bed. After you're finished sipping on your brew from the comfort of your home, do everyone a favor and give 'em a good review. Who knows, maybe that'll inspire Starbucks to make Uber Eats delivery a nationwide capability. Based off the company's statement, it's looking forward to hearing customers' feedback. (I'm looking at you, Miami residents.)
If you don't live in Miami, you can still experience all the drinks that Starbucks has to offer. Sure, you'll have to physically travel to the nearest location, but I think it'll be worth it. Why? Because Starbucks recently unveiled a handful of caffeinated bevs that you don't want to miss out on. Between the iconic Pumpkin Spice Latte and the Maple Pecan Latte, you'll get to enjoy the flavors of the season. You can also opt for the company's brand new espresso drink, the Cordusio, which was released in honor of the first Starbucks Reserve Roastery opening in Milan, Italy.
In other words, you shouldn't be too bummed if you're not currently living in the Miami area. Whether you order a Starbucks drink via Uber Eats or at the counter of a store, you're sure to enjoy it.