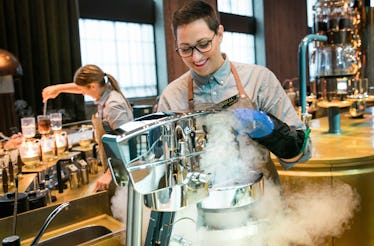 Starbucks' Fancy New European Espresso Drink Is Actually Really Easy To Get
Starbucks
Attention, coffee lovers: Starbucks unveiled a brand new espresso drink on Thursday, Sept. 6 in honor of its first Reserve Roastery in Milan, Italy. It's called the "Cordusio," and you're going to want to try it. I know you're probably wondering where to get Starbucks' new "Cordusio" beverage — so I'll give you the details. Thankfully, you won't have to hop on a plane to Europe in order to try a sip (unless, of course, you want to).
Luckily, the Cordusio is available at Starbucks locations in the United States, Mexico, Peru, and Europe, per Starbucks. With that being said, it's likely that you won't have break out your passport in order to try the Milan-inspired espresso drink (unless you live in a country that isn't selling it, but I'm sure it'd be worth the trip).
Now that you know where to get a Cordusio, you're probably wondering what it's made of. According to Starbucks, the new menu item consists of a shot of espresso paired with steamed whole milk and mocha sauce. As someone who loves espresso and anything chocolatey, I can get into this. Speaking of chocolate, the beverage is even topped off with a light dusting of cocoa powder. Yum.
Aside from its flavors, the drink looks totally chick — and you can totally tell it was inspired by Milan.
Unfortunately, the Cordusio will only be available in Starbucks stores while supplies last, per Starbucks. In other words, don't wait too long to give it a try. It'd be a total bummer to plan on starting your morning with a fancy espresso drink (like this one) and find out that it isn't available anymore. If that happens, though, you can always take a trip to the Starbucks Reserve Roastery in Milan, Italy for a different European coffee experience.
Milan's new Reserve Roastery is the first Starbucks to open in Italy, and it's the reason why the Cordusio espresso drink even exists. In fact, the Cordusio was named after the location of Milan's new Starbucks: the Piazza Cordusio. Starbucks created the espresso drink to honor its first Starbucks Reserve Roastery in Italy, and it'll surely inspire you to give Milan a visit.
If you do hop on a plane to Europe, make it a point to stop by Milan's Starbucks, which will open its doors to the public on Friday, Sept. 7. There, you'll be able to try far more beverages than the Cordusio — and you can do it in style. Between marble countertops, mosaic floors, brass wall designs, and bright colors, you'll be able to dive into a Starbucks experience that you never have before.
In addition to the Reserve Roastery's caffeinated offerings, there will also be a chic cocktail bar that offers specialty beverages and delicacies in the early evenings. So, if you've spent the day sipping on a Cordusio and taking in the sights, you can head to the mezzanine and end your visit with a Starbucks mixed drink from its Arriviamo Bar.
Of course, getting to Italy might be a little tough. If you'd rather try a Cordusio in the comfort of your hometown, head to your local Starbucks. Again, the espresso beverage is only available in the United States, Mexico, Peru, and Europe for a limited time — so drink up.