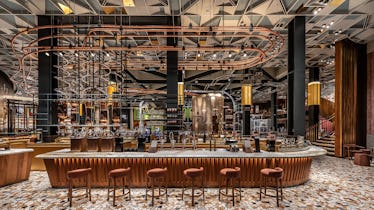 Coffee Lovers Will Drool Over These Photos Of The First Starbucks In Italy
Courtesy of Starbucks
If you've been to Italy in the past, you might have found yourself searching for a Starbucks store with absolutely no luck. Why? Because there's never been a Starbucks in Italy. This probably comes as a shock to anyone who's used to finding a Starbucks location on every street corner in their city, but it's always been true... that is, until now. The first Starbucks in Italy is officially here, and it'll open its doors to the public on Friday, Sept. 7. Once you see these photos of Italy's first Starbucks Reserve Roastery in Milan, you'll want to buy a plane ticket and visit ASAP.
I'm not kidding. The Milan-based coffee house has already been considered the "most beautiful Starbucks store to-date" (by Starbucks, of course), and I can't even argue. Out of every Starbucks store I've been to in the past, I've never seen one like this. Between its gorgeous display, 360-degree interactive coffee experience, and chic cocktail bar, there's nothing quite like it.
I know you're probably wondering what the new coffee haven looks like, so let's start there. Upon walking into Milan's Reserve Roastery, your Starbucks experience will happen right off the bat. The entire entrance is surrounded by a wall-to-wall, floor-to-ceiling display that shows Starbucks' entire history carved into brass. Once you get past the entrance, you'll be overwhelmed by color accents that aren't standard to Starbucks: bright greens and jewel-toned marble. According to Starbucks, the uplifting color choices represent Milan's sense of style.
As you walk around, you'll notice a few things that you probably didn't see at your local Starbucks during your lunch break. For instance, the Reserve Roastery features a mosaic floor that was hand-crafted by local artisans.
TBH, I could spend hours sipping on my coffee and staring at the ground in this place.
Then again, I'd be just as happy sitting at the coffee bar. The bar tops aren't your typical Starbucks counters, because they're made of marble. In fact, the marble that Starbucks used was carved from a 30-ton block of Calacatta Macchia Vecchia marble sourced from Tuscany.
Take that for being authentic.
I don't know about you, but I'd feel fancy AF working at one of these marble bar tops.
Speaking of bars, Milan's Starbucks Reserve Roastery even features a Arriviamo Bar that sells cocktails, special coffee orders, and "small delicacies," per Starbucks. So, once you're done sipping on your coffee at the marble countertop, head to the mezzanine for a specialty cocktail.
If it's a nice day and you'd rather get some fresh air, go ahead and sit at the café outside the Starbucks Reserve Roastery's terrace.
Again, have you ever seen a Starbucks like this? I think not.
Of course, getting to Italy to experience this one-of-a-kind Reserve Roastery can be pricy — so Starbucks made it easy to celebrate its opening in the United States. In honor of Milan's new coffee spot, Starbucks unveiled a new drink called a Cordusio, rightfully named after Piazza Cordusio (where the Milan Starbucks is located). The espresso sip is served "short" in an 8-ounce cup, and has a mocha taste with a dusting of cocoa powder. It sounds to me like the perfect pick-me-up, and I'll cheers to Milan with it.
Whether you spend the next few days sipping on a Cordusio or planning your trip to Milan, I'm sure you'll get a tasty coffee experience.
BRB, I'm going to go check out some flights to Italy.