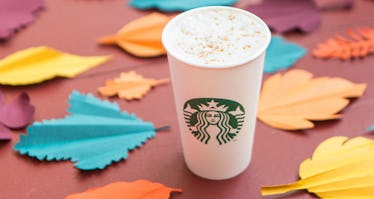 Move Over PSL, This Seasonal Starbucks Sip Is Finally Back Just In Time For Fall
Starbucks
If you are in search of a fall brew that's not the tried-and-true Pumpkin Spice Latte, I've got just the suggestion for you. Starbucks' Maple Pecan Latte is back just in time to become your fave fall sip. Starbucks' fall drink lineup is shaping up nicely with the addition of the Maple Pecan Latte. I've got nothing but love for the PSL, but it is nice to have options.
The Maple Pecan Latte is back, back again. It's music to my ears because maple and pecan just so happen to be two of my favorite flavor combinations. On Tuesday, Sept. 18, Starbucks added the Maple Pecan Latte back to its menu. If you're not familiar with the Maple Pecan Latte, allow me to introduce you. The brew is a combination of rich and bold espresso, steamed milk, and features some of the season's best flavors like maple syrup, pecan, and brown butter, according to Starbucks. That's not all. To finish off the Maple Pecan Latte, the drink is topped with an orange and gold-colored sugar crystals for an autumn treat. Say no more, I'm off to order my first Maple Pecan Latte of the season. You, too? OK, here's how you can get the Maple Pecan Latte for half-off.
Starbucks' Happy Hour is taking place on Thursday, Sept. 20. This week's deal includes 50 percent off espresso-based drinks, size grande or larger. Since espresso is a key ingredient in the Maple Pecan Latte, this means it is included in the Happy Hour promotion. If you haven't tried the fall brew before, this is your chance to sip on a sweet cup of total deliciousness. The Maple Pecan Latte never lets me down. Starbucks' Happy Hour starts at 3 p.m. local time and lasts until stores close, so make sure to stop by for a pick-me-up in between afternoon meetings or on your way home from work. The deal is valid at participating Starbucks locations around the country.
Make sure to sign up with Starbucks for Happy Hour emails or become a Starbucks Rewards Member. This will give you access to exclusive Happy Hour promotions so you can sip on tasty discounted drinks like the Maple Pecan Latte (or the Pumpkin Spice Latte). You're welcome.
The autumn season officially starts on Saturday, Sept. 22. Although, it feels like fall got off to an early start this year, minus the weather, anyway. Where I live in Florida, it felt like 105 degrees on Tuesday, Sept. 18. But, just the name of the Maple Pecan Latte is enough to make me forget the horrid heat. Honestly, the thought of sipping on a Maple Pecan Latte makes me want to crank down the air conditioning, throw on a cable knit sweater, and cozy up with a good book.
So, thanks, Starbucks, for bringing back the Maple Pecan Latte for fall-lovers in search of a different brew to celebrate the season with. This drink is only available for a limited time, so enjoy it while you can.