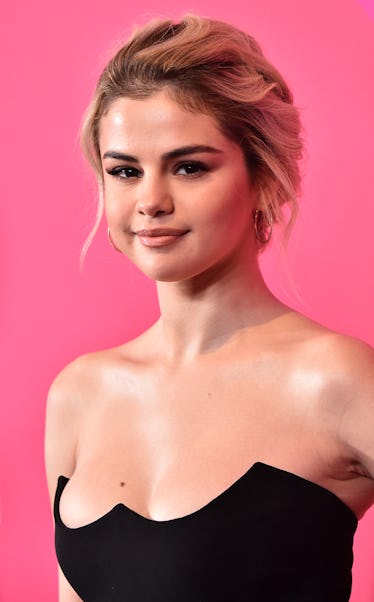 Say Bye To Blonde Selena Gomez, Because She Just Changed Her Look AGAIN
Frazer Harrison/Getty Images Entertainment/Getty Images
These days, celebrity hairstyles seem to change more often than the weather. Every time a star tests out a new look, it throws the internet into a full on tizzy, and it can be difficult to keep up. For instance, is Selena Gomez blonde now? You would think so, given the fact that she debuted a bleached blonde lob mere weeks ago, but the answer is that it's time to mourn the singer's buttery hue.
Let's have a moment of remembrance for Selena's choppy bleached bob, which she introduced earlier this year at the American Music Awards on Nov. 19th. It featured dark natural roots that expertly faded out into a light peroxide blonde. She paired the hairstyle with a super sexy black leather dress on the red carpet and looked like a modern version of a '90s Debbie Harry or Gwen Stefani. The look was so good, and gave Selena a grungy and moody edge that fans hadn't previously been privileged to see.
Gomez continued to rock the style in Instagram pics all the way through Dec. 11; on that day, she posted a photo of herself alongside cast members of her show, 13 Reasons Why. Although Gomez has posted various images to her Instagram since then, all of them appear to be photos that were taken before she dyed her hair blonde, so the fact that she's brunette in them didn't call for alarm.
However, photos recently posted by her cousin, Priscilla DeLeon, have revealed that Gomez is no longer a blonde and has gone back to her brunette roots. RIP, blonde lob of my dreams.
Earlier this week, DeLeon posted a video to her Instagram account of herself and Gomez, in which DeLeon holds a sign that reads, "I said yes to the dress." The video's captions reads, "When your maid of honor makes your dream dress a reality and surprises you with it!" If you hadn't already surmised, Gomez is DeLeon's Maid of Honor, and although the video is definitely blurry, the singer is very much a brunette in it.
In case you're not sold, a Boomerang from that same day was later posted that clearly shows Gomez's brown hair, and the following day, a fan snapped a photo with the newly brunette singer.
While I'm sure the blonde hue was only one of Gomez's major hair transformations to come, it was definitely short lived. Aside from experimenting with her length, the singer has kept her hair pretty routine, all things considered. She's experimented with darker and lighter browns, and had some golden highlights painted in at one point, but none of her previous hair color experiments were quite as dramatic as this one.
Maybe it's the fact that other celebs (read: Kim Kardashian) change their hair so frequently that makes us crave and even expect big transformations from others in the spotlight. After all, celebs are often whom we look to for beauty and fashion trends, so if their looks remained static or homogeneous we'd have nothing to get excited about. Regardless, it is without a doubt completely up to each individual to change their look whenever and however they'd like.
One Twitter user who doesn't seem to see it this way criticized Selena for dying her hair for only one month, accusing her of doing so just for attention.
As you might have expected, Selenators came out in droves to stand up for their queen:
While I myself was sad to see the blonde go, I get it! She wasn't feeling it anymore! It's SO important for people, especially women and girls, to support and love each other, and to cut the petty tear downs that are posted on the daily. How you decide to dye your hair or wear your makeup is no one's right but your own to judge. So Selena, you do your best brunette you.