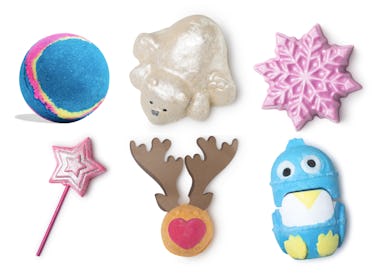 Here's Everything We Know About Black Friday Offerings From Lush
Lush Cosmetics
During that shopping sweet spot of the year that stretches from Black Friday through Cyber Monday, I always keep my fingers crossed that my favorite brands will partake in some extra-special discounts and deals. However, while plenty do, I've found that not every brand is quick to hop on the Black Friday bandwagon. It was only a few days ago that I caught myself wondering: Is Lush having a Black Friday sale? And while my fingers were crossed for a big ole yes, it turns out, the brand takes a different approach when it comes to holiday savings.
Before I dive into this very real Black Friday woe, it's worth noting that, in general, Lush has incredibly reasonable, low prices. Natural and eco-friendly products are typically seen as the best of the best, and as a result, they can be expensive. But you can mosey on into a Lush Cosmetics shop and find some serious bargains year-round, from bath products under $10 like the festive Snowman Daydreaming Bath Bomb ($6, Lush), the cult-classic Intergalactic Bath Bomb ($8, Lush) or my fave sweet-smelling shower gel Honey I Washed The Kids ($10, Lush). It's not quite the same as scoring a major deal on Black Friday, but at least it means you can buy backups throughout the year without waiting for one weekend only to stock up.
We only include products that have been independently selected by Elite Daily's editorial team. However, we may receive a portion of sales if you purchase a product through a link in this article.
So, why may there not be a Black Friday sale? Lush originated as an English brand, and as Black Friday is really only observed in the United States, the brand doesn't typically partake in the tradition. It's a bummer for those of us who were hoping to fill our carts this weekend with dozens of bubble bars, but it is what it is. In fact, Lush rarely does sales at all throughout the year — its only major sale usually falls on Dec. 26, aka Boxing Day in the UK. So you'll want to keep an eye out here and on Lush's social media pages for details about that.
I was really hoping to wind down after a stressful Black Friday with a bath like this, but I guess I can save it as a post-Christmas, pre-New Year's Eve relaxation thing:
In 2018, the brand did have a lovely initiative for Giving Tuesday. On Nov. 27, 2018, Lush matched the sales of every Charity Pot ($8, Lush) sold, and then donated the money raised to three North American charities. The International Rescue Committee, the National Coalition for the Homeless, and Community Food Centres Canada all benefitted from Lush's generosity. (Even better, the Charity Pot is still a charitable purchase any time you shop it.) In 2020, the brand has a smaller, packaging-free version of the Charity Pot lotion ($2, Lush) that's even more eco-friendly. All of the proceeds from this eco-friendly version are also donated.
Even though there aren't a ton of deals to be had until after Christmas, we can still celebrate the holidays with Lush by indulging in their luxurious, festive 2020 Holiday Collection. This year, all the holiday products tug on your fave holiday-themed heartstrings, with Santa Claus, snowpeople, and even hippopotamus motifs throughout.
If there's anything that can remedy sadness over lack of sales, it's some stunning Lush Christmas designs that'll make you feel and smell the spirit of the holidays. Lush really did that, and as a result, I totally forgive them for skipping Black Friday. My love affair with the brand will promptly resume on Dec. 26, when you can hopefully find me buying as many bottles of Honey I Washed The Kids as I can find.
This article was originally published on