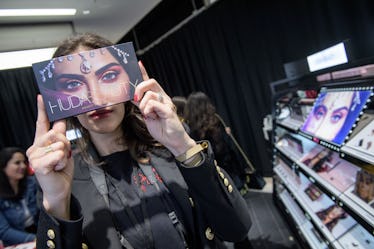 Here's When You Can Start Lining Up For Sephora's Incredible Black Friday Deals
Thomas Lohnes/Getty Images Entertainment/Getty Images
Black Friday 2018 is looming, friends, and this year, the urge to shop is so real. Granted, I'm pretty much down to browse year-round, but advertisements for this major retail holiday have been aggressively squeezing their way into my already overflowing inbox since early October. Translation: Despite my efforts to draw back and contain myself (and my wallet), Nov. 23 is going to be flooded with discounts, so I'm already mapping out my targets. But there are still a few details I need to hash out, like what time Sephora opens on Black Friday 2018, because your girl needs some new mascara, and anyone who's ever shopped Black Friday knows the earlier you arrive, the more products there are for the taking. Catch my drift? I figured you would.
If you're a seasoned cosmetics shopper, then you know Sephora does Black Friday in a big way. The problem is, Sephora knows its discounts can't be beat, either — which is probably why, every year, the beauty retailer keeps its loyal shoppers on their toes about some pretty important discount details — like what time Sephora actually opens on Black Friday, and just how "limited" these limited-time offers really are — until the very last possible second. The brand knows you're (impatiently) waiting, and that it's one of the most grueling processes bargain shoppers will ever encounter, but that's the genius of it. The wait makes the chase all the more thrilling.
No? Just torturous? OK, fine.
Thankfully, the wait appears to be over: According to Real Simple, Sephora will be open between 6 p.m. and midnight on Thanksgiving, and the beauty retailer will welcome shoppers again on Black Friday starting at 6 a.m. Be sure to double-check with your local store, though, the outlet notes, as specific opening and closing times might be different depending on the location.
So do what you have to in order to prepare — set your alarms, use the buddy system, stop at your local Starbucks and pick up a venti Americano, because Sephora's Black Friday sale appears to start at the crack of dawn this year, y'all.
But aside from knowing what time Sephora opens on Black Friday, you also need to narrow down your shopping strategy if you're willingly venturing into an actual brick and mortar. In other words, go in with a plan: Know what you want to buy, and try to have a general idea of what aisle you can find these products in. That way, you can grab and go without getting trampled because, trust me, Black Friday crowds are not for the faint of heart, nor are they friendly to casual browsers.
If you simply cannot wait until Black Friday to start shopping for cosmetics, the good news is that Sephora's Black Friday preview is already underway, as of Thursday, Nov. 15. Here's how it works: If you log in to the Sephora app, you'll see that the beauty behemoth is launching an exclusive sneak peek at the deals beauty lovers can expect to see on Black Friday, like name brand offerings for only $15 and under. I repeat: and under. If, for some reason, you don't have the Sephora app already front and center on your home screen, though, it's OK. The beauty gods will forgive you, just as long as you text "APP" to 63485 and download now from either the app store or Google Play.
Not only is Sephora graciously giving you an insider's glance at discounts to come, the store is also offering shoppers the chance to snag a few holiday minis for $15 and under right now, including the miniature Too Faced Better Than Sex Mascara Ornament, and BITE Beauty's Sweet Treats Agave Lip Care Set. But oh no, my friends, that's hardly all. There are also some awesome sets going for under $25, like the MAKEUP FOREVER Essential Wonders kit, and STILA's 3D Dazzle Mini Glitter & Glow Liquid Shadow Set. So if you'd prefer to keep Thanksgiving traditional, focusing on family and food, you can shop these awesome deals now, and wait until you wake up Friday morning to browse Sephora's Black Friday deals online. Either way, you win.