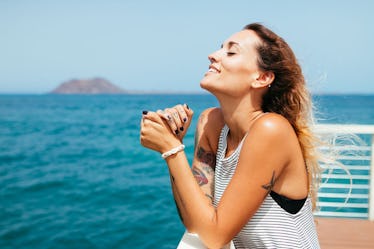 If You Didn't Get Real Closure After Your Last Breakup, Here's Why You're Not Alone
When you're fresh from a breakup, closure can feel more like a relationship buzzword than an achievable goal. Everyone seems to have an opinion on how you can get it, but the more people talk about the concept of closure, the more abstract it feels. So, is closure real? Or is it just a word you use when you want to convince yourself you're over your ex?
I spoke to behavior and relationship expert Dr. Patrick Wanis, Ph.D., about whether you can actually get closure after a breakup, and how you can tell if you've completely moved on from your ex and are emotionally ready for a new relationship.
Dr. Wanis created a free online breakup test that helps determine whether you are over your ex. By answering a series of questions, you are given a score that divides you into one of four categories. Based on your result, you are then provided with customized advice, insight, and actions to take. The survey had close to 1,740 respondents as of July 2018, and almost 50 percent of men and 50 percent of women who took the test reported that there was no closure when they broke up with their partner.
Most people never get closure following a breakup, but it isn't impossible. Here's what you need to know about the myths and truths of finding closure after a breakup.