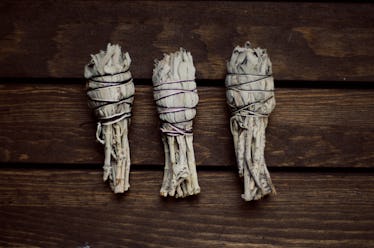 5 Ways To Officially Mark The End Of A Relationship, Because You Deserve Closure 
One of the worst things about going through a breakup is feeling powerless, especially if you weren't the one who wanted to end things. Your heart is breaking and everything feels like it's spinning out of control. You feel lost. But no matter how awful it might feel in the moment, I promise you it won't always feel that way. In fact, there will come a moment where you'll slap that chapter closed and be ready and eager to move on. Knowing how to get closure from a relationship, even if your ex isn't willing to give it you, is one of the ways to get to this place of freedom (read: zero f***s given), and it begins with taking back control of your own narrative.
You can do this by actively giving yourself symbolic closure — instead of just waiting around for it to happen on its own. I don't know about you, but when I'm sad or anxious, the only thing that makes me feel better is having a plan of action. Oftentimes just by doing something, I'm able to get out of my head and get some relief. This is especially true after a breakup. So here's what you should consider doing after a breakup to officially mark its end and get some freakin' closure already!