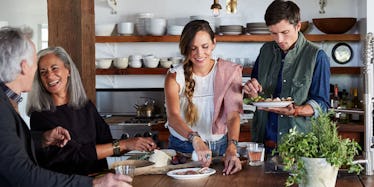 It's Possible To End A Relationship & Stay Close With Your Ex's Family — Here's How
After breaking up with someone, you lose a lot of what that person brought to your life. Someone who listens to you rant about your days, a travel buddy, Netflix co-watcher, the list goes on. If you were close to their family too, you probably will be super bummed out to lose that bond as well. But, wait ... you don't have to cut yourself off from your ex's family. If you miss your ex's family, it is possible to remain in their lives even after you've severed ties with their family member.
A breakup can shake up every part of your life, and it's normal if the last thing you want is to hang out in your ex's family's group chat. But it's also completely natural if you miss trading book recommendations with your ex's mom or watching The Bachelor with your ex's sister. Your reasons for ending the relationship with your ex might not have much of an impact on your relationship with their family. What if you broke up due to long-distance getting too hard? Or you fell out of love, but want to stay friends? The romance between the two of you may have ended, but it still makes sense for you to keep their family, who may have become a second family to you, in your life.
Bree, 25, fostered a close relationship with her ex-boyfriend's parents when she was with him for six years. When her ex's younger brother died by suicide, her ex's mom created a not-for-profit foundation in honor of him.
"I spent a summer during university working with her every day on youth mental health initiatives," Bree tells Elite Daily. "She always considered me to be the 'daughter she never had' (she had three boys)."
Bree and her ex broke up around two months ago. After the split, his mom sent Bree a heartfelt message saying Bree will always be in her heart, and that she would go with Bree to her outpatient mental health appointments if Bree wanted. Bree and her ex have seen each other as friends since the break up; she describes the split as "amicable."
"His mom still checks in with me from time to time to see how I'm doing," she says. "We were together for so long and I was essentially a part of their family. There's no way I'll be able to leave them behind as I move forward. His parents love me and I love them equally back."
Ileen, 52, has remained close with her high school ex-boyfriend's mom for 37 years. They speak every few months, and Ileen visits her in Cape Cod whenever she can.
"We catch up on life, family, and kids, and to this day, she still gives me advice on relationships and life," Ileen tells Elite Daily. "She knows me better than anyone and she calls me out on my bullsh*t when she needs to."
Ileen calls her ex's mom "the coolest woman" she knows, and is happy she remains in her life even though her ex isn't.
So while it may seem awkward at first, it's clear you can remain close to your ex's family even after breaking up. Just because you and your ex didn't work out romantically, it doesn't mean you need to cut off the very real bonds you made with their family. It's possible to remain close with them for months, years, and decades after you break up with that person.
Check out the entire Gen Why series and other videos on Facebook and the Bustle app across Apple TV, Roku, and Amazon Fire TV.
Check out the "Best of Elite Daily" stream in the Bustle App for more stories just like this!