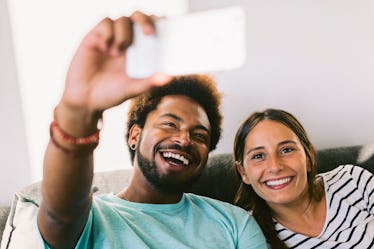 11 Clever Instagram Live Ideas For Couples That Will Start New Trends
Westend61/Westend61/Getty Images
If you're a newbie to Instagram Live and are just discovering the beauty of this feature, you're not alone. So many users are going "live" nowadays, taking advantage of this feature's natural ability to connect people and creating a slew of notifications in the process. They're streaming their workouts and bringing people into their living room for lively Q&As. If you want to join the bandwagon with your SO, scroll through some of these clever Instagram Live content ideas for couples and get ready to entertain your followers.
You don't necessarily need to perform a full-blown stand-up act on the app or prepare a dance number. (Although, go ahead and do so if that's your jam.) This feature gives you the chance to add value, joy, or casual fun to your friends' afternoons, however you see fit. You've likely seen your fave celebs take the spotlight so their followers could learn more about their fitness routines, trending #looks, and collabs. Maybe, on a casual Saturday morning, you've tuned into your cousin chatting about her business or your besties from college doing a group try-on haul.
The results can be a lot of laughs and someone in the group saying, "Let's do this again!" The feature truly is so catchy, and something you'll want to take advantage of with your love. Here are 11 clever things you can do on Instagram Live to get you two started.