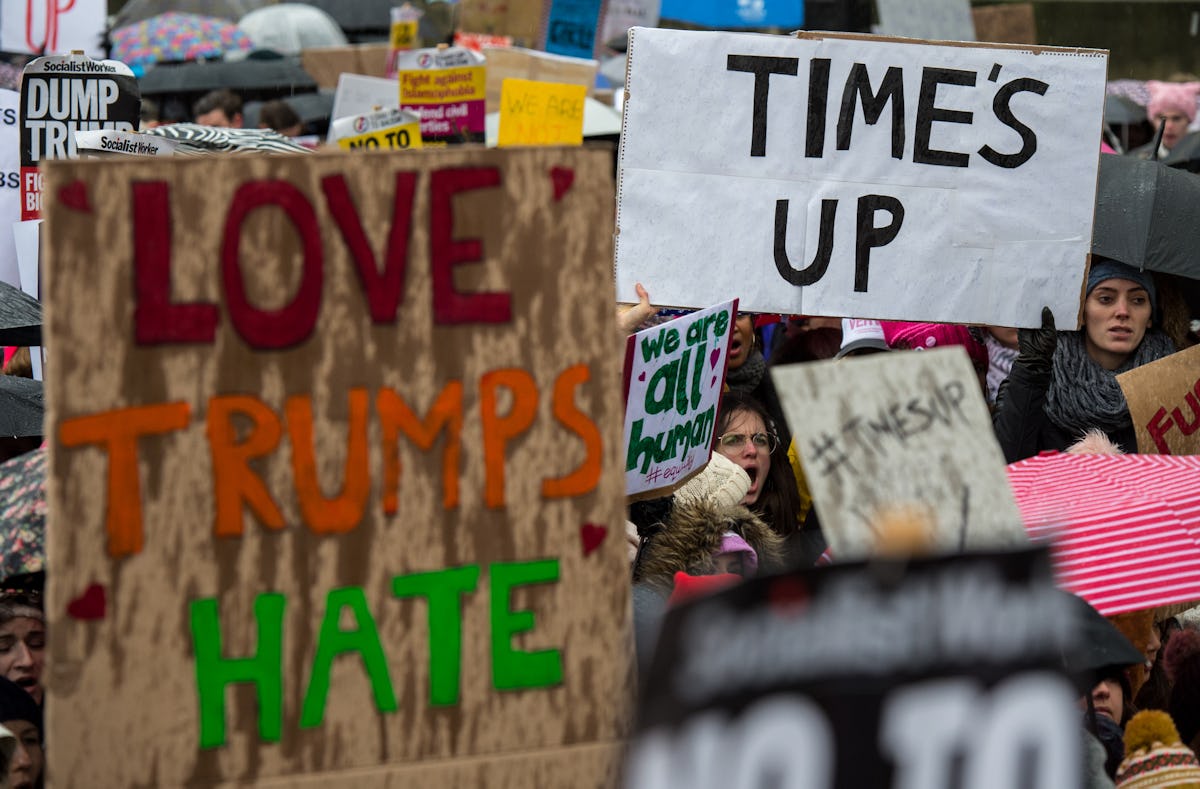 These Quotes From The Women's March Will Inspire You To Take Action
Chris J Ratcliffe/Getty Images News/Getty Images
Harnessing the energy and support that accompanied the historic 2017 Women's March, this year's event is continuing to the move the cause forward. With a location change to a swing state like Nevada to highlight the latest cause of "Power to the Polls," the 2018 Women's March is back to work energizing the masses. They're not only doing it through concerted efforts like registering voters, but they're also bringing some of the most influential voices in politics to the stage on Sunday, Jan. 21 in Las Vegas. Of course, the crowd gathered in Nevada will hear the speeches live, but you're not totally out of luck if you couldn't make it to Las Vegas. These inspiring quotes from the 2018 Women's March in Las Vegas will definitely fire up the political activist inside of you.
The Women's March draws supporters from all walks of life, but it's no surprise that it also brings the star power. While scheduled speakers already include people like Cecile Richards, president of Planned Parenthood, and Women's March co-president Tamika D. Mallory, the organization still had one more big (and iconic) name to add to the list. In the wee hours of Sunday morning, the Women's March announced on Twitter that Cher would be joining the cause at Sam Boyd Stadium in Las Vegas.
The event began with prayers from a variety of representatives of different religions as well as with performances.
Cecile Richards, the president of Planned Parenthood, was one of the most anticipated speakers at the event.
She took her moment at the mic to call out her fellow white women and their actions and votes.
Richards said on Sunday,
White women, listen up. We've got to do better. It is not up to women of color to save this country from itself. That's on all of us. The good news is, when we are in full-on sisterhood, women are the most powerful political and cultural force in America.
When we are standing for and with each other, when we recognize that no one is free until everyone is free — and that means no matter what country you come from, no matter who you love, no matter what you look like, no matter what — We. Are. Unstoppable.
Activist Astrid Silva, a Dreamer, spoke about the importance of voting when it comes to immigration rights.
She said,
My 12-year-old cousin Natalia lives in Arizona. I will not allow her to have a racist as a senator. I will not allow my family to continue living in fear. My mother gave everything to be here in this country for me to have a better future. My father gave his life working under the hot Las Vegas sun so that I could be here. And now, they live in fear every single day that ICE will come and take them, and that's not a fake fear; that's not a fear that we can just overnight wish away. But you can protect us: Every single one of you here.
Luisa Blue, executive vice president of the Service Employees International Union (SEIU), was there to inspire.
Anna Galland, executive director of Move On, got the crowd fired up.
"In the year ahead, we need to hold onto this feeling — that not only are we not alone, we are the overwhelming majority in this country! And together, we are on the march," Galland said.
NARAL Pro-Choice America, a major organization for abortion rights, was in the house.
"We persist and we resist — that's what we do. 2018 is our time to hold our legislators to account for thinking they have to power to make decisions about our bodies," NARAL Nevada member Megan L. said.
Commentator Melissa Harris-Perry had the one line that said it best when it came to white feminism.
"Saying thank you to black women is not a damn hashtag," she said. Harris-Perry spoke to the women who came first to break down barriers, as well as to the majority of black women who vote to swing elections more progressively, as happened in Alabama this past December.
Women's March co-chair Carmen Perez talked about how the work does not stop today — activism needs to continue from everyone to change the country.
"It's gonna take all of us to build a beloved community that Dr. King dreamt of. It's going to take us all. So let's get to work," Perez said.
"There's a difference between being woke and being transformational. What are you going to contribute to this community? Because being woke is not enough," Perez said.
Women's March co-chair Tamika Mallory also spoke about the importance of voting — and of white women to stand for minorities.
Mallory spoke about the need to be "loud" and "bold." Referencing the stereotype that women are already loud, Mallory said,
To hell with it, turn it up, be louder. Don't worry about that. But now, we cannot be loud with just our mouths, we have to be loud with our votes, ladies and gentlemen who are with us.
She also spoke of the need for intersectionality, saying,
Our job in 2018 is to make good on all the times that you left us out here in the cold. Stand up for me, white women. Come to my aid. You say you want to be my friend — I don't want to hear it from your mouth, I want to hear it from your vote.
Co-chair Linda Sarsour declared that the Women's March is out making history.
She said,
I'm the one who's here to tell you that we're going to win this year. We will win. This is not an opinion, it is a fact, because women are going to bring us to victory. Not only will we win this year ... but we're going to make history together.
Sarsour went on to list a series of 2018 elections that would be historic and declared that between the Women's March and partners, one million voters would be registered. Sarsour also announced that next, the Women's March will be headed to Texas, Pennsylvania, and Ohio.
Co-chair Bob Bland added in words about supporting each other.
"White women, we have the power to transform things by de-centering ourselves, by bringing room at the table for others," she said.
She spoke to the importance of white women stepping it up to help center women of color and their contributions to the conversation. She added,
A lot of us, particularly us white women, have a lot of catching up to do. Many of us are just awakening to our complicity in holding up a system of white supremacy that our country was founded on ... When you are working with our most marginalized communities, really hear their stories. Really listen. Listen to their critiques. Do not reject them. Listen to their strategies and do what they say. Follow their lead.
Ohio State Senator Nina Turner added a message specifically to Black women.
Along with an amazing collection of pop-culture references in a speech telling women to believe in their power.
"I want you to not allow anyone to make you feel marginalized," she addressed Black women. She added that if there's a time when Black women aren't getting a seat at the table, to do what Shirley Chisholm, the first Black congresswoman, advised — bring a folding chair. "There may come a time when you gotta kick the door in," she said. "Black girl magic is real."
And then she proved that being inspirational doesn't have to mean being overly sentimental. She peppered her speech with a number of references to pop culture and dramatic TV. She said,
Do not fear sisters, because the young and the restless are uniting with the seasoned and the sensational and we will reclaim the days of our lives, despite the scandal around us. We must reclaim the days of our lives as we search for tomorrow. A brighter, vibrant, inclusive, revolutionary tomorrow. And as the black lightning streaks the sky and the black panther leads the nation, we know that this world is rising with wonder women.
Alicia Garza, one of the founders of Black Lives Matter, spoke against the things that have restricted women.
"The ways of being that said that women's labor was just a duty that we have to fulfill," she began. She continued,
That care taking and picking our food was just what women are supposed to do. The ways of being that said that our bodies are not our own. The ways of being that forced us to find dignity in the shadows. This is our birthright, and I hereby declare — and I want you to declare it with me — those days are over!
And of course, Cher didn't pull any punches.
The iconic singer kept her statement short, sweet, and to the point.
"If you don't take it, no one's going to give it to you," she said. "And if you don't have a vote you don't have a voice."
While Las Vegas is the home to the main event of the Women's March this year (to highlight the importance of swing states like Nevada), plenty of people still took to the street to celebrate the inaugural Women's March that took place on Jan. 21, 2017. Across the nation, supporters of this cause — that advocates for women's rights (and general equality) while also standing up against the seemingly backwards-thinking and marginalizing policies and actions of the Trump administration (see: Trump's seemingly racist comments about Haiti or the failure to agree on a spending bill that protects both DACA and CHIP) — marched all across the nation to show that they will not stand for policy-led inequality.
Powered also by the strength of the #MeToo and Time's Up movements, there was no shortage of inspirational messages shared at these momentous gatherings, either. At the 2018 New York City Women's March on Saturday, Halsey inspired the hundreds of thousands people gathered as she read her both heartbreaking and empowering poem, "A Story Like Mine."
Halsey recounted memories of accompanying her friend to a Planned Parenthood at 14 years old because her friend was sexually assaulted. She also recounted her own traumatic experiences, including one that happened as recent as last year when a man whom she trusted apparently physically took advantage of her. Even though she shared her darkest moments, Halsey ended her poem with a message of hope and will to fight when she implored, "Yell at the top of your lungs. Be a voice for all those who have prisoner tongues ... Lord knows, there is a war to be won."
By sharing personal stories and messages of hope, Women's March speakers all over the country are doing their part to energize voters to bring "Power to the Polls" on November 6, 2018.