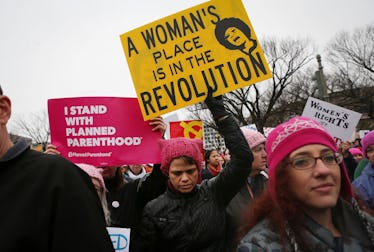 Here's Why The Main Women's March Isn't In Washington D.C. Again This Year
Mario Tama/Getty Images News/Getty Images
The Women's March has returned this year for another round of power, people, and progress. While hundreds of demonstrations will take place across the globe, the official Women's March will happen on Sunday, Jan. 21. This year's march will take place in Las Vegas, Nevada, which has left many wondering why the 2018 Women's March isn't in Washington, D.C. As it turns out, there are a lot of good reasons for the location change.
Last year, it made sense for the Women's March to take place in Washington D.C. It was a direct demonstration against the inauguration of President Trump and his anti-woman policies. But this year, while the march continues to be a symbol of resistance for women all over the country, its specific focus has shifted. The theme for the 2018 Women's March is "Power to the Polls," which makes Las Vegas the perfect location.
You see, Nevada is a swing state — or, as Women's March organizers are calling it, a "battleground state." These states are always crucial to an election, but are especially crucial for the upcoming 2018 midterm elections. Why? Because 468 seats in Congress will be up for election, giving Democrats a chance to regain some power in Washington D.C. Nevada went blue in the 2016 election, and Republican Senator Dean Heller's seat in Congress has been called one of the "most endangered" by NBC News, which means the state could have major impact in the midterms.
The 2018 Women's March kicks off a voter registration tour. Organizers will travel to swing states across the country and register residents to vote prior to Election Day. According to The Daily Dot, just 59.7 percent of eligible voters showed up to the polls in 2016. While this was higher than the 2012 election's 58.6 percent, it still represents less than two-thirds of the country's eligible voting population. With so much at stake, voter registration is more important than ever.
In addition to Senator Heller's vulnerable seat, a press release announcing the 2018 Women's March highlighted two more important reasons why Las Vegas was chosen as the location for the march.
In October 2017, a man opened fire from a Mandalay Bay hotel window in Las Vegas. Armed with high-powered rifles, he killed 58 people and injured over 500 more. The shooting is considered one of the deadliest in modern U.S. history and continues to fuel debates across the aisle about gun control.
In December 2017, amidst the #MeToo movement and the reckoning of accused sexual assailants and harassers, House Democrat Ruben Kihuen, who represents Nevada, announced that he would not be seeking reelection in the 2018 midterm elections. His announcement came one day after the House Ethics Committee revealed that it had begun an investigation into accusations that Rep. Kihuen sexually harassed several women and made unwanted advances.
The congressman denied the accusations in a statement, per The Washington Post, but said he was stepping away to avoid distractions. "The allegations that have surfaced would be a distraction from a fair and thorough discussion of the issues in a reelection campaign. Therefore, it is in the best interests of my family and my constituents to complete my term in Congress and not seek reelection," Rep. Kihuen said.
This year, like last year, lawmakers and other prominent leaders will speak at the Women's March, including Rep. John Lewis (D-GA), Black Lives Matter co-founder Alicia Garcia, Planned Parenthood president Cecile Richards, Senator Catherine Cortez Masto (D-NV), political commentator Dr. Melissa Harris-Perry, former Ohio state Senator Nina Turner, and civil rights activist Rev. William Barber III. Although it is called the Women's March, organizers continue to emphasize the importance of male voices and support in the movement.
If you are unable to make it to a march this year, don't fret; there are other ways that you can show support for the cause. A voter registration tour is a serious undertaking for the Women's March, and any donation will help ensure that organizers can offer their best resources to the states they will be visiting. You can visit the Power to the Polls fundraising website to make a contribution.
Check out the entire Gen Why series and other videos on Facebook and the Bustle app across Apple TV, Roku, and Amazon Fire TV.