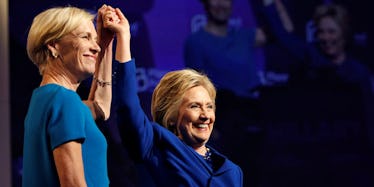 Everything You Need To Know About Joining The Women's March On Washington
REUTERS
Next Saturday, as many as 200,000 people will be marching in response to the inauguration of President-elect Donald J. Trump.
Born as a Facebook invite for friends from a retired attorney in Hawaii, the Women's March on Washington exploded overnight into a viral beam of hope and protest.
In a polarizing, xenophobic, racist and misogynistic campaign that has resulted in the election of Donald Trump as president of the United States of America, we have a deeply divided and anxious nation.
The organizers of the march have stated that this is not an anti-Trump march, but rather a collective message to those in power in all levels of government, that we will not let women's rights fall to the back burner. We stand together in an intersectional approach, to protect and stand up for one another and our rights.
So you want to get involved? Great! The more the merrier, and all who are supportive are welcome.
Here are a couple of things you need to know about how to participate in the march:
Read the Mission
The organizers of the Women's March on Washington have published a mission for the goals and reason for everyone to view.
It's important to firmly understand why it is necessary to organize when the livelihood and rights of so many of our neighbors, loved ones, acquaintances, are at risk.
We stand together, recognizing that defending the most marginalized among us is defending all of us.
Follow the Guidelines
Following the mission are the guidelines attendees should abide by. In a group so large, with so much diversity, it is important that we step up to the plate to fully respect everyone's attendance and in unity.
Reading them, understanding them and enacting them will make this a better experience for all attendees.
Principle 1: Nonviolence is a way of life for courageous people. It is a positive force confronting the forces of injustice and utilizes the righteous indignation and spiritual, emotional, and intellectual capabilities of people as the vital force for change and reconciliation.
Sign up
You've made it this far! You agree with the intentions of the mission, and agree to abide by the guidelines of the March to create an experience that will respect all participants. Great! Then we absolutely want you to participate.
Gathering a group as large as this for a March across Washington, DC requires permits, preparation of logistics, and a LOT of organizing. To make things easier for organizers to have best estimated numbers, register to be a part of the March.
If you've organized transportation with your friends and community to bring a bus, register that bus. If you would like to join a group of people on that trip to DC, major partners are organizing buses as well.
Check out which partner may have a located affiliate near you.
Share
Spread the word. Share information about the march amongst friends, family, anyone you think would want to participate in the March.
Mark that you're attending the event on Facebook, like their official page, keep updated on all news surrounding the march, and share, share, share.
I can't think of anyone who hasn't heard of this march yet, but you'd be surprised. Exposure is key.
March
You've made it to Washington! (Or one of the sister marches that will be happening in cities across the country.) Dress appropriately for the weather, wear comfy shoes, stay hydrated, pack a meal – OK mom, are you done? Yes!
Write signs; make it political, make it PERSONAL!
These are our stories, our lives that may be impacted by this oncoming administration. Speak out against injustices.
Dress in solidarity with other marchers – wear a PussyHat! Reclaim being a NASTY WOMAN! Support everyone who is there, their reasons for being there, and the message they are pushing to our president-elect and his administration.
We will not roll back efforts made for women's rights and racial justice. We will not stand for discrimination of any race, sex, gender, etc.
We condemn hateful, xenophobic language and incitement of violence.
Together, we stand in unity to for one another's rights.