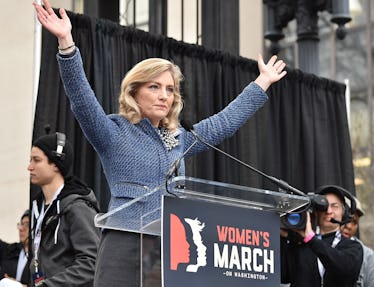 This Is What's Happening At This Year's Women's March
Theo Wargo/Getty Images Entertainment/Getty Images
A year after millions of people attended the 2017 Women's March and affiliated demonstrations around the globe, the 2018 Women's March schedule has been set, and it's packed with notable speakers. The march's main event will be held in Las Vegas, Nevada kicking off at 10 a.m. local time at Sam Boyd Stadium, a venue most commonly used by the University of Nevada-Las Vegas' football team. Among the guests who will be attending the event are Democratic lawmakers and political advocacy leaders from organizations like Planned Parenthood and Black Lives Matter.
Among the lawmakers slated to speak in Las Vegas at the Sunday, Jan. 21, rally is Rep. John Lewis (D-GA). Lewis, a congressman with a history of marching in civil rights protests, will be speaking at a Women's March for a second consecutive year, having addressed the crowd that gathered for Atlanta's iteration of the nationwide event in 2017.
"I know something about marching," the 77-year-old Lewis told the Atlanta crowd. "I know something about marching when I was much younger, had all of my hair and a few pounds lighter. I marched in Nashville. I marched in Washington. I marched from Selma to Montgomery. I'm ready to march again!"
A Democratic colleague of Lewis' in the House of Representatives, and fellow member of the Congressional Black Caucus, is also expected to speak at the Las Vegas event. That colleague is Rep. Sheila Jackson Lee (D-TX) who, like Lewis, was vocally supported of a Women's March event that was held in her own congressional district last January.
"I commend the organizers of today's marches and look forward to working with the Houston area March organizers as well as the national organizers of the many marches around the nation to ensure that women's rights are treated as human rights in federal government policy and the laws that the 115th Congress ," the congressman said in a statement.
Among the other speakers scheduled to attend the 2018 Women's March main event in Las Vegas are Alicia Garza, the co-founder of Black Lives Matter, Cecile Richards, president of Planned Parenthood Federation of America, and Senator Catherine Cortez Masto (D-NV).
In an interview with Cosmopolitan, Sen. Cortez Masto highlighted the importance of the Women's March main event being held in her home state, while outlining what the goal of the event will be.
"Nevada, I think, is really a microcosm of the rest of the country, the diversity that's there," the senator told Cosmo. "And by having the women come out and make a point of, "not only are we going to reflect on this year and continue to fight for the issues that we care about, we are actually going to mobilize and we are going to register and we are going to turn our words and our protest into action come 2018 elections" — that's what I've always said from the very beginning. The march was the first step. Now we've got to turn it into action. And our first area where we can make a difference is 2018 in the election."
Rounding out the list of speakers are professor and political commentator Dr. Melissa Harris-Perry, former Ohio state Senator Nina Turner, civil rights activist Rev. William Barber III and other political activists.
In addition, a video message from Senator Elizabeth Warren (D-MA), an honorary co-chair of the 2018 Women's March, will be played at the event, which will kick-off a national tour of voter registration.
Together, the combination of speakers will all highlight the Women's March's "Power to the Polls" theme, says Linda Sarsour, the co-chair of the Women's March.
"It's a mixture of speakers from very powerful movement leaders across democratic spectrum," Sarsour told CNN. "And then we'll also have the most directly impacted people have that same platform ... undocumented people, people from trans community and victims of the shooting ... we are uniting the party. We have to remind people what's at stake."
That reminding will be done on Sunday.