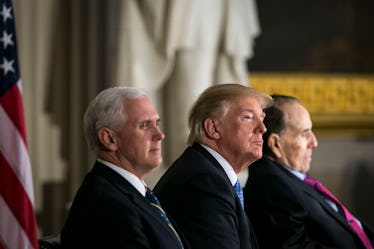 Donald Trump's Tweet About CHIP Is Not Helping Government Shutdown Negotiations
Pool/Getty Images News/Getty Images
Thursday, Jan. 18, marked another back-and–forth between Republicans and Democrats. As the two parties continue to debate a spending bill and the possibility of a government shutdown grows more and more likely, the Children's Health Insurance Program (CHIP) has become a sticking point. President Donald Trump's latest tweet also makes that possibility look like an inevitable reality and has people wondering "how is CHIP related to a government shutdown?"
If Congress doesn't send a budget bill to Trump by midnight on Friday, Jan. 19, the federal government will be forced to shut down, meaning non-essential agencies will close and many federal employees won't get paid. As a solution, Republicans have proposed a short-term bill that would keep the government open until Feb. 16 while extending the CHIP program for six years, according to The Washington Post; however, the legislation would not include protections for Deferred Action for Childhood Arrivals (DACA) recipients, one of the key demands of Democrats. Republicans included CHIP funding in the bill to get Democrats on board with it, but Trump's latest tweets seem to undermine that.
As the future of the budget agreement remains in the air, Trump took to his Twitter to apply pressure to Democrats to come up with a solution — but instead, he may have undermined his own party's stance. On, Jan. 18, Trump tweeted, "CHIP should be part of a long term solution, not a 30 Day, or short term, extension!" Trump also expressed concerns about a possible shutdown's effect on the military, writing, "A government shutdown will be devastating to our military … something the Dems care very little about!"
CHIP is a program that provides health insurance to low-income children which usually has strong bipartisan support. It was originally sponsored by a Republican, Sen. Orrin Hatch, in 1997. According to HealthCare.gov, the program offers coverage for immunizations, hospital care, prescriptions and other services.
But since the program is allocated a certain amount of funds from the government, Congress has to reauthorize funding for the program every few years. The last time it was reauthorized was in 2015, with only two years of funding provided — and in September 2017, the program's funding ended and Congress did not reauthorize it. Since then, Congress has been imposing temporary spending bills to avert a shutdown. But states are scrambling to keep the program running, and some states could see their funds running out as early as Jan. 19, according to NPR.
In a news conference on Jan. 18, House Speaker Paul Ryan promised legislation would be passed soon, and expressed that he had no intention of hurting the military with the shutdown. He said, "I have confidence we'll pass this because I think members understand, why on earth would we want to have a government shutdown, hurt the military … that is not in anyone's interest." He also added that the president supports his plan, according to CNN. However, Politifact notes that a shutdown wouldn't drastically affect the military, and that "critical military functions" would continue.
The last government shutdown happened in 2013 when Republicans tried to implement changes to the ACA, better known as Obamacare, to no avail. It lasted 16 very eventful days. During the shutdown, from Oct. 1 to Oct. 17, 2013, about 800,000 federal employees were out of work without pay, per ABC News, and another 1.3 million had their paychecks delayed and worked without an expected pay date. The shutdown was the third-longest in United States history, according to USA Today, and cost the country an estimated $24 billion, or $1.5 billion a day.
As the most recent legislation deal's deadline grows closer, let's just hope it doesn't cause the country the same fate. Cross your fingers.