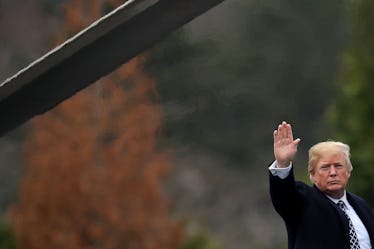 Everyone On Twitter Is Thinking The Same Thing After Donald Trump Said He's Not A Racist
Chip Somodevilla/Getty Images News/Getty Images
Donald Trump is known for outrageous statements and putting his foot in his mouth, but his most recent comments on immigration might be some of his most troubling yet. After Trump reportedly called Haiti and some African countries "sh*tholes," he's trying to walk back the damage. And now, tweets about Donald Trump saying he's not racist are proving that his damage control, uh, is kind of failing.
On Jan. 14, Trump denied that he had made the comments, saying that he was not a racist. "Did you see what various senators in the room said about my comments? They weren't made," he said, according to The New York Times. He also said, "I'm not a racist. I am the least racist person you have ever interviewed, that I can tell you."
Trump was responding to the criticism he took for his remarks during a Jan. 11 meeting with members of Congress to discuss a deal on immigration and Deferred Action for Childhood Arrivals (DACA), an Obama-era program to protect young undocumented immigrants from deportation. At the meeting, Trump reportedly called Haiti and African countries "sh*tholes" and asked why the United States should take in immigrants from said countries. He reportedly questioned why the proposed immigration deal protected immigrants who had fled from disasters in countries like Guatemala, El Salvador, and Haiti, asking, "Why do we want people from Haiti here?" Instead, the president reportedly said that he would prefer more immigrants from countries like Norway. Haiti is 95 percent Black, according to the CIA World Fact Book, while Norway is 83 percent ethnically Norwegian and 8 percent "other" European.
In the aftermath, many people pointed out the racism inherent in Trump's reported comments. Which, I presume, led to Trump's denial on Sunday.
Except, there's one problem.
Twitter quickly pointed out that the only reason to say that you're not racist is that you said or did something that people thought was really racist.
I mean, there is a pretty obvious logic there. You don't have to deny something that there's no evidence or accusations of. If you have to deny you're racist, it's because people think you're racist.
There's also the fact that Trump's recent comments were hardly the first time he's said something that critics have deemed racist.
During the 2016 presidential campaign, Trump drew outrage for claiming that immigrants from Mexico were criminals and rapists. "They are bringing drugs. They are bringing crime," he said. "They're rapists. Some, I assume, are good people." He also insinuated that refugees from Syria's civil war were terrorists. At a 2015 rally in New Hampshire, he said, "They could be ISIS, I don't know. This could be one of the great tactical ploys of all time. A 200,000-man army, maybe."
And as president, Trump attempted to institute a ban on travel from several majority-Muslim countries, a move that many — including the courts — viewed as based in bias and racial animus on grounds of nationality and religion.
Perhaps most damning of all in the court of public opinion? In August of 2017, Trump refused to immediately disavow white supremacists after violence at a white supremacist rally in Charlottesville, Virginia left a woman dead. In remarks after the violent incident, Trump said that there were "people that were very fine people on both sides," including the contingent of white supremacists and neo-Nazis who had arrived at the rally carrying Confederate and swastika flags. His comments drew heavy criticism, including from members of his own party.
So, if Trump intends to convince his critics that he's not actually racist, his own words might not be the most convincing evidence in his favor. No matter — or perhaps even because of — what he's saying about it now.