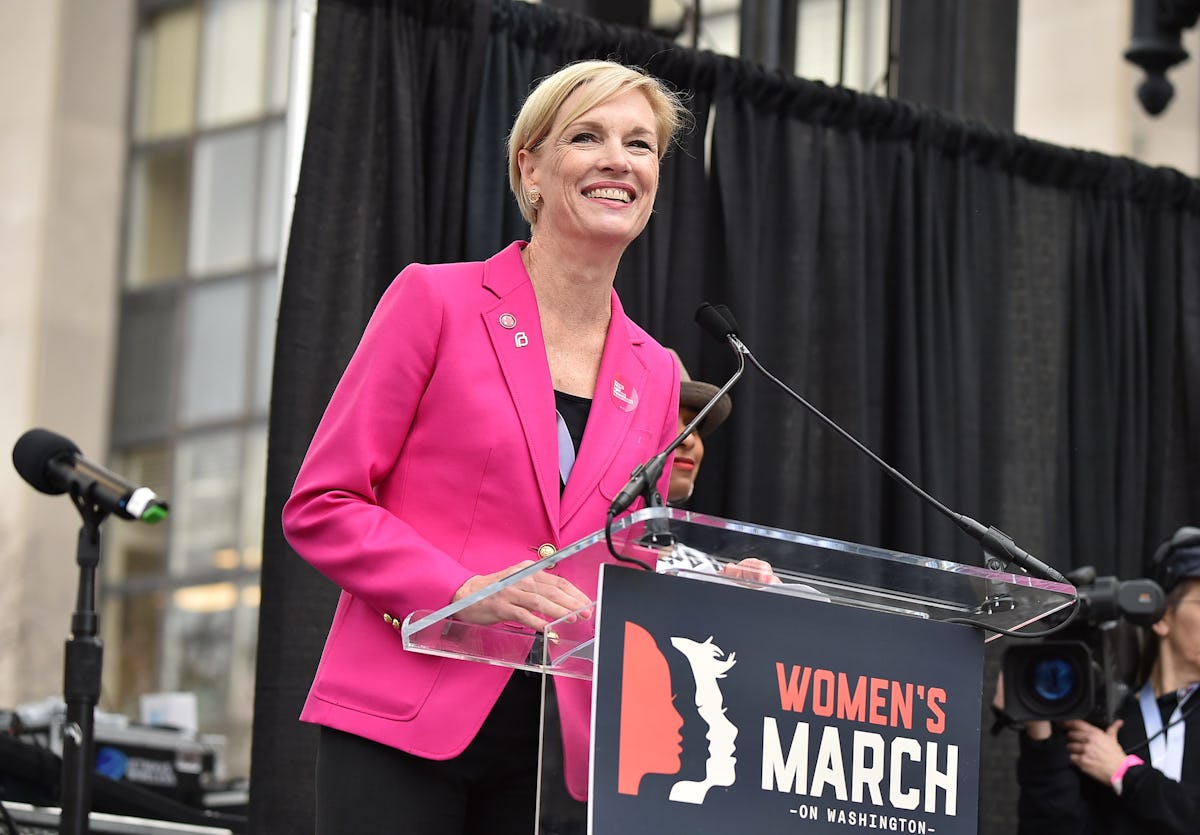 10 Women's March Speakers Who Will Get You So Excited For This Year's Event
Theo Wargo/Getty Images Entertainment/Getty Images
One year after the historic Women's March, which took place in many cities across the U.S. and abroad on Jan. 21, 2017, the resistance against President Donald Trump and his controversial administration is still going strong. This year, the main event of the Women's March will take place in Las Vegas on Sunday, Jan. 21. The theme of this year's march is "Power to the Polls," and there will be no shortage of political activism and energy in the battleground state of Nevada this weekend. To prepare, here are 10 Women's March speakers that will definitely get you pumped for this year's event.
As part of an effort to use this year's Women's March as an opportunity to kick off a national voter registration tour, the main event taking place at Sam Boyd Stadium in Las Vegas will feature some very notable speakers, according to a Women's March press release. There will be members of Congress and famous faces alike among the speakers that will energize people to engage in the political process more fully so that constituents will see their own values represented in their elected officials — with the hope that there will be more women and progressive individuals voted into office. As you await all of the inevitable highlights, take a look at who you can expect to hear from on Sunday, Jan. 21.
1. Cecile Richards, President Of Planned Parenthood
Cecile Richards has been serving as the president of the Planned Parenthood Federation of America since 2006, and she has spent that time advocating for better access to health care, with a focus on women's services. According to the Planned Parenthood website, more than 600 Planned Parenthood affiliate health centers across the U.S. provide health care services to 2.4 million patients.
Richards has also spearheaded many nationwide "campaigns to preserve access to Planned Parenthood preventive care through federal programs," and she has (impressively) more than tripled the number of Planned Parenthood supporters to over 10 million.
2. U.S. Senator Catherine Cortez Masto (D-NV)
In 2016, Sen. Catherine Cortez Masto became both the first Latina and the first woman from Nevada to be elected to the U.S. Senate. She is currently hard at work as a co-sponsor of the DREAM Act of 2017, which would allow some immigrants who were brought here as children to be granted legal U.S. residency, according to her Senate website.
Cortez is also working to pass the Save Women's Preventive Care Act, which "would guarantee coverage for preventive health care services, like breast cancer screenings, birth control, and domestic violence intervention support."
3. Dr. Melissa Harris-Perry, Political Commentator
Currently, Melissa Harris-Perry is the Maya Angelou Presidential Chair at Wake Forest University in North Carolina. Her fall 2017 course list included teaching African American Politics with topics that included African American voting and participation, according to her website.
Harris-Perry is also the editor-at-large of Elle.com, and she is described as a "guide to the stories, experiences, challenges, policies, and defining pop culture moments of women and girls of color," according to the website.
4. U.S. Representative John Lewis (D-GA)
Rep. John Lewis currently represents the 5th Congressional District of Georgia in the U.S. House of Representatives. Lewis was a main player in the civil rights movement, sitting as Chairman of the Student Nonviolent Coordinating Committee (SNCC) from 1963-1966. A couple of his many notable efforts include the 1963 March on Washington and the 1965 march from Selma to Montgomery, Alabama, which was a non-violent demonstration by African American citizens expressing their desire to exercise their constitutional right to vote.
As a co-sponsor of The Paycheck Fairness Act (which looks to end pay disparity based on gender) and as a member the Ways and Means Human Resources Subcommittee, Lewis fights to protect programs serving women, according to his website.
5. Alicia Garza, Co-Founder Of Black Lives Matter
As a co-founder of the Black Lives Matter movement, which began in July 2013 and is a globally recognized organizing project, Alicia Garza "focuses on combatting anti-Black state-sanctioned violence and the oppression of all Black people," according to the Black Lives Matter website. Furthermore, as a queer black woman, Garza challenges, through her work, "the misconception that only cisgender Black men encounter police and state violence."
Garza is also the Special Projects Director for the National Domestic Workers Alliance, which advocates for dignity and fairness for millions of domestic workers in the U.S.
6. Nina Turner, President Of Our Revolution
Nina Turner is a former Ohio state senator and the current president of Our Revolution, which is an organization aimed at supporting a new generation of progressive political leaders and elevating the political consciousness, according to their website.
Turner was staunch supporter of the Bernie Sanders campaign in 2016, according to The Washington Post, and she began the movement toward a "young, new, burgeoning party" as the best way to foster a progressive movement.
7. Tamika D. Mallory, Women's March Co-President
Tamika D. Mallory has been recognized as a champion for social justice, and she even worked closely with the Obama Administration as she advocated for civil rights issues, women's rights, and health care. Before co-founding the Women's March in 2017, Mallory previously served as the national organizer for the 50th Anniversary of the March on Washington in 2013, which drew 300,000 people, according to the Women's March website.
Mallory and the Women's March co-founders are taking on the task of turning the energy of last year's Women's March into real political activism (and votes!) this year. She told Newsweek, "We understand that the true power of the movement will be measured by how we engage in the political process."
8. U.S. Representative Sheila Jackson Lee (D-TX)
Rep. Sheila Jackson Lee represents the 18th District of Texas in the U.S. House of Representatives. Her fight for women's and children's rights can be seen in her support of the Paycheck Fairness Act, which addresses the gender wage gap, and the Pregnant Workers Fairness Act, which allows for reasonable workplace accommodations to be made for pregnant employees.
Jackson Lee is also introducing an amendment to the U.S. Commercial Space Launch Competitiveness Act that would allow for increased outreach to minority-and-women-owned businesses when it comes to commercial space industry business opportunities.
9. Maria Teresa Kumar, President And CEO Of Voto Latino
Maria Teresa Kumar is the president and CEO of Voto Latino, which she co-founded in 2004 and is an organization that has registered over a 250,000 voters, according to the Voto Latino website. Kumar is passionate about engaging and empowering the Latino youth when it comes to the political process.
With that mission in mind, Kumar has led Voto Latino to grow through various creative campaigns that incorporate technology, pop culture, and youth influence to set positive change in motion, according to Politico.
10. Jane Kim, San Francisco Supervisor
Jane Kim represents District 6 on the San Francisco Board of Supervisors, and she is also the first Korean-American to be elected as a San Francisco city official. One of her groundbreaking initiatives was to make "City College of San Francisco the first community college in the nation to offer free classes to all residents regardless of age, income or educational status," according to her mayoral campaign website.
As she runs for mayor of San Francisco, Kim is also passionate about closing the wage gap. In 2014, a bill that she authored was passed to raise the minimum wage to $15 dollars an hour, which was the most progressive wage increase in the U.S. at that time.
While these speakers will all likely focus on the Women's March theme of "Power to the Polls" in order to energize voters and foster political activism, they will also bring their unique points of view concerning women's rights in general as they take to the podium on Sunday, Jan. 21. Attendees of the Women's March in Las Vegas can also expect to hear from other speakers (and possible musical performances) as these forces join together to launch the Women's March's national voter registration and mobilization tour.
So, instead of reliving the historic Women's March of 2017 by scrolling through your Facebook Memories, you can become active in the political process and celebrate the progress to come with the Women's March of 2018 — and don't forget to register to vote make it to the polls on election day.