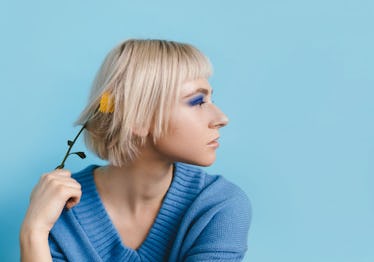 4 Personality Types That Are Unlucky In Love, So Keep Your Chin Up
We all have that friend. Maybe we are that friend. You know — the kind who just seems to keep getting the short end of the stick when it comes to romance. Maybe you've gone on a string of mediocre dates that just never seem to lead anywhere. Or, maybe every time you feel optimistic that you've finally found your new bae, they suddenly ghost you. Did you know that some personalities are more prone to being unlucky in love? If you've had a string of dating disappointments, you're probably one of several specific MBTI personality types.
In case you're unaware, your Myers-Briggs personality type can provide a ton of valuable insight into your love life. Not only can someone's type indicate how like they are to cheat or to stand you up, but they can also offer guidance on your ideal first date or hints about your biggest turn-ons.
As such, it's no surprise that if you're unlucky in love, your personality type can be a factor worth noting. Sure, to a degree, dating is a game of luck — you have to be at the right place at the right time to meet your soul mate. Still, certain personality traits can make it more challenging to find the kind of romantic connection you're looking for. Has your love life been a bit lackluster? Then you could very well be one of these personality types.