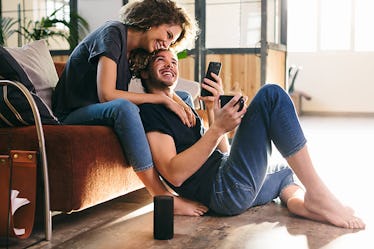 4 Things You'll Notice About Yourself If You're Ready To Move In With Your Partner
Deciding to turn your bae into a live-in cuddle machine might sound like all fun and games, but the truth is that transitioning from having your own space to cohabitation is not a decision that should be made lightly. Fortunately, knowing if you're ready to move in with your partner doesn't have to be a complicated thing to figure out. After all, spending a certain amount of time in a happy and healthy relationship leads many people to ask themselves the question: Why live apart when everything is some much more fun together? But, in order to ensure you're in the right headspace to take this step, it's important to be extra aware of what's going on inside of yourself.
Needless to say, there isn't a certain amount of time that you have to be in a relationship before moving in together, because every couple and every relationship is different. That's why being able to self-assess your own individual readiness is a crucial part of the process. So, if you and your partner have been toying with the idea of living under one roof, here are some things you'll notice about yourself that signal you're ready to make the move.