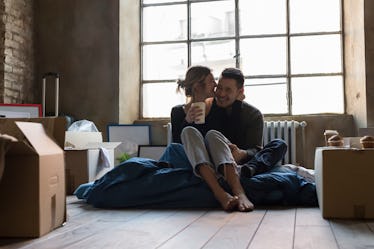 4 Signs You & Your Significant Other Are Definitely Ready To Move In Together
If you and your significant other are getting ready to move in together, congratulations! You're about to take a big step forward in your relationship and that is truly exciting. Before you pack up your boxes, though, you want to be absolutely sure that you are making this decision at the best possible time and for all the right reasons. Chances are, if you genuinely feel ready, you won't regret making this choice. But it's important to ensure that you and your S.O. are on the same page and feel safe with one another before you start sharing a space.
I spoke to Shira Etzion, marriage and family therapist, about the signs that you are definitely ready to move in with your partner. There's no rush, and as she explains, a "not now" doesn't have to be a "hard no." If there is any trace of uncertainty about taking this next step, it may help to wait. "Some manifestations of a relationship only happen once you are together in the same space with only each other to work through daily life in a home," says Etzion. "You really want to make moving in together a declaration that you are ready to discover those dynamics. The surprises are not always ideal and seeing your partner as imperfect becomes inevitable." If you think you can handle those imperfections and you can relate to the four signs below, then you and your S.O. should be good to go.