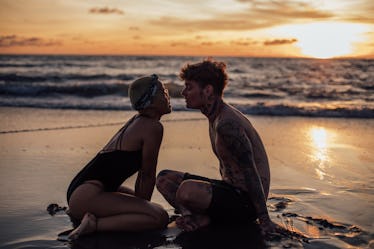 Experts Explain How To Tell If You're Ready To Have A Summer Fling
Last summer, after months of politely declining an invitation to drinks, I haphazardly agreed to spend a day with someone at their parents' beach house. We swam, read on the beach, ate seafood with our hands, and rode by the coast on an old moped. The day soon became a series of quick trips — weekends stepping out of reality to pier jump into the ocean and kiss in an outdoor shower. The entire situation felt like a rom-com, and yet, I couldn't help but wonder if I was ready to have a summer fling. Although I was living for my sexy beach movie moment, I would be lying if I said I didn't worry a little bit about where this love affair was headed.
Was I clear about my expectations from this relationship? Was I communicating my needs honestly? Would our weekend romps look different when the leaves changed color? Would they even exist at all?Tan lines and salty kisses aside, keeping things easy-breezy isn't always easy on the heart, no matter the season.
I asked three relationship experts how you can tell if you're ready to have a summer fling, and what they said is super enlightening.