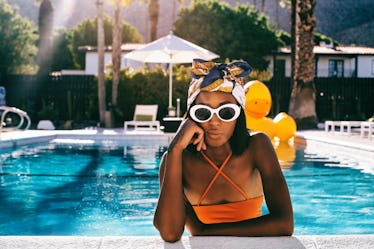 If Your Relationship Is Too Good To Be True, You'll Notice These 4 Signs
After a string of bad first dates or unfulfilling hookups, settling into something solid with a new boo can feel unbelievable. Of course, if you're seeing someone new and everything feels good — like, freakishly good — it's natural to wonder if your relationship is too good to be true. Whether you're used to dating total duds or you've never had a serious partnership before, someone being totally dependable and sweet, like, all the time, can honestly be disorienting. It can even make you feel a little suspicious.
"It's not always easy to know if our partner is being authentic with us — that requires our ability to trust them, and real trust is established over time," Dr. Gary Brown, a prominent relationship therapist in Los Angeles tells Elite Daily. The excitement of new love is wonderful and, understandably, we want those feelings to continue as long as possible. We tend not to say or do anything in the beginning that might cause those feelings to dissipate."
The start of a new relationship can be totally exciting. Still, if you're worried that your relationship may be a little too good to be true, Dr. Brown shares the four things to look out for.