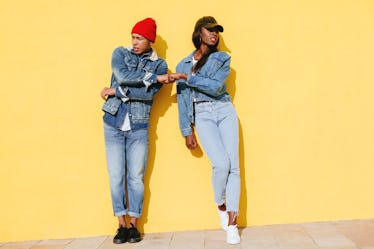 If You Don't Really Have Relationship Fights, You're Probably One Of These 4 Zodiac Signs
When it comes to the signs of the zodiac that don't really have relationship fights, I am sure you won't be too shocked to learn that Scorpios do not make it on to the list. Now, now — to be fair, neither do Geminis (of which I am one), but that still leaves quite a few signs to handle things, ahem, maturely during conflicts with bae. Similarly to cold sores, everybody experiences relationship conflicts. The difference lies in how you deal with it, together.
While some zodiac signs are particularly prone to arguments and heated conversations, others are quite the opposite. Some of these signs are actually rather non-confrontational, and hope to avoid any sort of conflict all together. It's all about finding a healthy middle-ground between feeling like you can bring things up to your partner and that you don't have to argue about every single thing.
All I know is that I have two friends who are Scorpios and dating each other, who are literally always arguing about something. Meanwhile, my friends who are Libras and Virgos rarely argue — instead, have a lot of "discussions" about "where they're at."
If you're dating someone that is conflict avoidant or just pretty chill about conflict, they're probably one of the following signs.