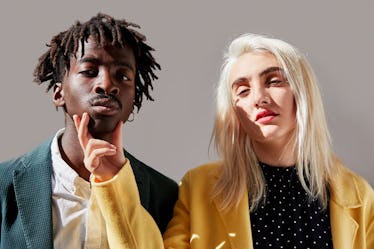 If Your Relationship Is Superficial, You'll Notice These 3 Signs
Today's dating landscape includes a wide variety of relationships. They can range from casual relationships and exclusive hookups, to friend with benefits arrangements and serious, long-term relationships. And one of the factors that separates all of those types of relationships is the level of depth. The opposite of depth, of course, is superficiality. So, how do you know if your relationship is superficial?
According to The Oxford Dictionary, the definition of superficial is "existing or occurring at or on the surface; not thorough, deep, or complete; lacking depth of character or understanding." That last word — understanding — is key in talking about what a superficial relationship is lacking. When you have a deep connection with someone, there's a sense of not only understanding but acceptance. You know all of each other's quirks, fears, and so-called "flaws," and you love each other anyway. At the same time, you challenge each other, and you any tackle problems that arise as a team. A deep connection typically means not only having physical intimacy, but also emotional and intellectual intimacy as well.
If you know for a fact that you're just in it for the sex or you literally never talk about the future, then you may be well aware that you're in a superficial relationship. But here are some slightly subtler signs that your relationship is shallow.