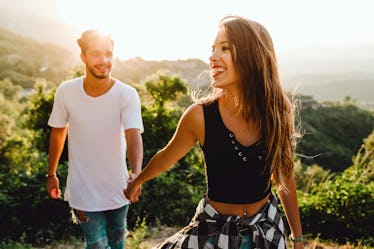 If Someone Doesn't Want To DTR, Should You Wait For Them Or Move On?
Shutterstock
So, you've started seeing someone new. You're into it. You're looking to lock this thing down. They... are not. Everyone has their own dating timeline, and even if someone likes spending time with you, they may not be ready for labels just yet. I once dated a guy who was OK posting pics of us together on his Insta Story, but not on his actual Instagram, because that was "too real." Did I wait around for him to change his mind? You betcha. But if it's pretty clear that the person you're dating doesn't want a relationship, should you wait? In my experience, probably not.
It's easy to think, "If I wait long enough, this person will eventually see how cool and fun I am and won't be able to imagine dating anyone else." Unfortunately, a person who doesn't want to commit right now may not ever be willing to commit — at least not to you. (Sorry, but — as the great Lizzo once said — truth hurts.) How can you tell the different between a person who doesn't want a relationship now and a person who simply doesn't want you? Here's how to get to the truth, and then eventually get over it.