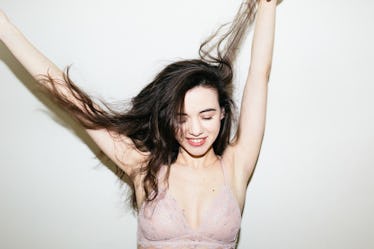 I Wore Lingerie Every Day For A Week & It Helped Me Get Over My Catholic-School Upbringing
Earlier this year, Emily Ratajkowski posted a photo of herself on Instagram as she walked her dog through the streets of New York City in 40-degree weather... in black, lacy lingerie. It was the kind of power move I've always dreamt of pulling off, to be honest. Sure, in reality, she was just doing her job and working a photo shoot, but I like to think that wearing lingerie every day is something she wouldn't be opposed to.
My very traditional Catholic-school upbringing meant always wearing a full-coverage undershirt over my bra, never wearing skirts that stopped shy of the knee, and definitely not wearing lingerie in public — like, ever! As far as dress codes go, mine was so intense that we weren't allowed to wear earrings that sparkled too much or headbands that had bows or any other embellishments on them (Blair Waldorf would be so unimpressed). It didn't help that I've always been naturally reserved, either — never one for exposé or grandeur.
Don't get me wrong. It's been years since I attended a school like that and I'm proud of the person I've become but, sometimes, I wish I could rock a more risqué #OOTD without feeling uncomfortable or self-conscious about it. That's why I decided to challenge myself to wear lingerie every day for a week. And although I won't be walking my dog in my undies any time soon, I can see the appeal.
Basically, what I'm trying to accomplish is a ceremonial un-doing of everything I learned from more than a decade's worth of all-girls Catholic school about how a woman should act or dress. I'm not saying you have to wear lingerie if it's just not your thing; all I'm saying is it's never been my thing because I was conditioned to think it wasn't. Here's what I learned from my experiment.
Day 1
I started things off modestly, opting for a dainty, lace bra from True&Co. The bra is unpadded with a nude, sheer lining, which left me feeling a bit vulnerable. As much I love the #freethenipple movement, I haven't exactly been confident enough to embrace it myself. Luckily, the flawless fit gave me the confidence boost I needed... and, you know, a literal boost, which was nice. It worked perfectly under my casual outfit that day — a V-neck T-shirt by Victoria's Secret PINK and high-waisted jeans à la Target. I didn't even mind that the loose fit of the tee left the lace fringe at the top of the bra exposed throughout the day because, honestly, it was adorable and I wasn't ashamed of it at all.
What I loved most about the True&Co. experience, though, was the Fit Test I took prior to placing my order. True&Co. boasts that they're committed to designing better-fitting bras based on data they've collected from approximately six million women — whoa, OK. I thought the whole thing seemed a little too good to be true, especially since the test took me about five minutes to complete with only 16 questions. For the most part, the questions felt sort of general, like, "Do your straps slide off during the day or sink into your skin?" and "Do you prefer neutrals or bold colors?" My results also seemed overly simplistic — but totally on point.
According to my Fit Test, my shape is "shallow bottom happy," which is true for 16 percent of women. "Your breasts are particularly rounded at the base and are sleek and chic," my results revealed. I'm not sure how chic my breasts are but the rest of it was true. I liked that they included how common my shape and size were because I totally have major boob envy after every Victoria's Secret Fashion Show. It was nice to be reminded that real life is not quite as well-rounded (pun very much intended).
Day 2
It would be remiss of me not to pay tribute to the outfit that inspired this whole thing so on the second day, I wore a matching Adore Me set that looked a lot like the one in Ratajkowski's Instagram. And yeah, I might walk my dog in this... you know, if I ever needed to do that for some reason.
Although the unlined bra was certainly outside of my comfort zone, the intricate lace detail made it almost impossible to tell. The hipster bottoms fit more like a thong with lace-trimmed sides, which I kind of loved. Best of all, it was super easy and comfortable to wear this all day as I ran errands. I liked that it was unnoticeable to everyone else but still made me feel like I could walk the runway alongside Emily Ratajkowski on my lunch break if I wanted to.
I mean, come on...
Day 3
Although I loved being out and about in the Daphne set, the truth is that I work from home most days, which made this blue, velvet number a lot more doable. After wearing dark neutrals for two days, I was happy to add one of my favorite colors (and fabrics!) to my new, sexy wardrobe.
The lace-trimmed slit at the front goes pretty high up but this definitely feels like something It-girl Serena van der Woodsen would layer for a trendy night out. Not exactly one for wild nights on the town, all I wanted to do the whole time I wore the Louellin was sip an obnoxiously large glass of red wine, which I happily did at the end of my workday.
No, I didn't walk my dog in this either but I did go five floors down to collect my mail so that's something.
Day 4
Lagging a bit from a wine hangover (yes, I'm a lightweight!), I needed a power outfit on Day 4 to get me through a day of Christmas shopping. I wore a low-cut, light sweater under a blush, faux-leather jacket from Zara. For bottoms, I went with black leggings and black, heeled booties. I loved pairing this otherwise sophisticated look with the edgy Brielle bralette because it added more character to the outfit. The criss-crossed straps were clearly visible above my sweater but rather than looking out of place, they added a bold detail that made me feel way more put together than I usually do.
If I'm being honest, the only reason I put so much effort into this outfit in the first place was so that I could style the bralette. It's like Carrie Bradshaw explains to Big in Sex and the City when she tells him her wedding gown upped the ante of the wedding. This $20 bralette was to me what a gifted Vivienne Westwood dress was to Carrie Bradshaw.
Day 5
On the fifth day of my experiment, I had a date with a guy I met on Tinder a few weeks earlier. This was the perfect opportunity to put my new threads to the test — not because I needed his approval but because this is exactly the type of situation that would, in the past, make me feel uncomfortable. After a week of sporting lingerie on the regular, I was feeling extra sassy so I got a blowout a couple hours before our drinks date for extra volume and confidence. I wore the Kaye bodysuit under a cut-out, charcoal grey sweater with black, high-waisted jeans and heeled booties (they're a staple, OK). I was, as Beyoncé and Nicki Minaj would say, feeling myself.
We had a few IPAs — yes, he mansplained this to me but that's a different story for a different day — before retiring to my apartment, where my all-lace teddy prompted a very amusing, "Oh wow! Look at that!" Funny as it was, I knew exactly what he meant. We'd been on a couple dates by this point and I could tell he wasn't sure if this was out of character or not. He was a fan regardless and so was I. I felt unusually confident about my body, like lights-on confident, and it made things so much more exciting. Somewhere, my Catholic school religious studies teacher is squirming, which is fair since she was also the biology teacher and skipped all the chapters on sex (thanks a lot, Catholic school).
Day 6
The next day, I leaned right into my newfound confidence. I wore the Kenzley bodysuit under a loose, silk button-down with a circle skirt and my day-old blowout. I felt driven and more sure of myself as I walked into my favorite coffee shop to get some work done. On any given day, I love my job but somehow, I felt more qualified to do it now — like my sexy attire had earned me the right to do what I've always done, which is write about dating and sex. This must be how Gal Gadot feels when she puts on the Wonder Woman costume, I thought to myself.
Before this week, I would have never even considered purchasing the Kenzley, much less wearing it to a coffee shop to work for six uninterrupted hours. I would have been deterred by what seemed like a complex, uncomfortable design. I would have convinced myself that I could never pull it off, that no one actually wears anything like this in real life. I would have been wrong on all counts. The Kenzley was easily my favorite piece from my lacy week as I finally felt like this was something I was doing purely for me — because I wanted to and not because I dared myself to.
Contrary to what I'd expected, it was incredibly comfortable and not at all restrictive. I loved that I was brave enough to wear this out even though no one could really tell — it was almost as though I had a secret superpower. Now, I know for sure this is how Gal Gadot feels.
Day 7
If Catholic school taught me anything, it's that Sunday — the seventh day — is a day of rest and that I did. I lounged around my apartment all day in this flirty, matching set from Adore Me, doing face masks and watching Gilmore Girls. I deliberately wanted to dedicate the final day of this experiment to self-care because I found myself more in love with my body than I'd ever been before. Something about growing accustomed to seeing myself in clothing that offered less materially but more stylistically made me appreciate my body more. It was unexpected and beautiful.
I'm still a long way off from pulling what I'm now referring to as an Emily Ratajkowski but I like where I'm at for now and that's all that really matters. The next time I wear a pleated skirt, I'll probably pair it with a barely-there bralette just for fun. Take that, Catholic school.
Check out the entire Gen Why series and other videos on Facebook and the Bustle app across Apple TV, Roku, and Amazon Fire TV.
Check out the "Best of Elite Daily" stream in the Bustle App for more stories just like this!