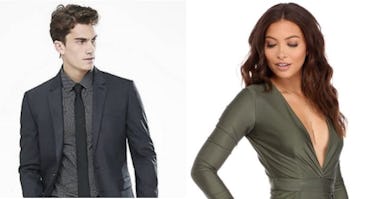 School Gets Roasted For 21-Page Prom Dress Code That Shames Different Body Types
Boylan Catholic School
Even though it's meant to be fun, prom usually ends up causing way more stress than it's worth. Between finding a date in time and arranging after-prom plans with friends, it can be a serious headache.
And, of course, as most girls know, finding the perfect dress is quite the difficult task.
That task only induces more stress when the school imposes ridiculously stringent guidelines on the dress code, like this Catholic high school in Illinois.
Boylan Catholic High School in Rockford released their guidelines for how students should dress for prom, and they are now being accused of sexism and body shaming.
The guidelines come in the form of a 21-page rule book complete with pictures, explaining what is and isn't appropriate attire for the May 6 event.
However, it's pretty clear the school established significantly more rules for some students compared to others.
While the rule book contains a concise set of four examples for what's considered appropriate attire for the guys, the girls have a much longer and more detailed set of restrictions.
Anyone who does not adhere to the restrictions will not be allowed into the prom, according to the guidelines.
The rule book also states,
Boylan Catholic High School dances are an event, which reflects the philosophy of our school and the teachings of the Catholic Church. Among our most important considerations is adherence to Church teachings regarding modesty [sic].
For the guys, the guidelines simply say they can wear a tux, a suit and tie or a sport coat and slacks with a tie. No "don'ts" of any kind.
For the women, on the other hand, the rules are extremely detailed. The neckline cannot show any cleavage, the back and sides of the dress can't be low-cut and all hems must be longer than mid-thigh.
Cut-outs of any kind are not allowed, and the same goes for any silhouettes that are considered "excessively tight."
A particularly infuriating line in the rule book states,
Some girls may wear the same dress but due to body types, one dress may be acceptable while the other is not.
So basically, if I were going to this prom, I'd probably have to shove my DD-cup boobs into a suffocating dress with a high neckline, only to possibly face the risk of being told my silhouette is "excessively tight" because I just squashed all my curves into a dress that doesn't actually suit my body.
See the problem?
According to Boylan President Amy Ott, the guidelines are meant to help the girls, not hurt them.
You sure about that?
Citations: Illinois Catholic school sparks outrage after publishing a 20-PAGE dress code for prom that claims some girls can wear styles that others can't because of their different body types (DailyMail.com), Boylan Catholic High School (Prom 2017 Dress Code Guidelines)