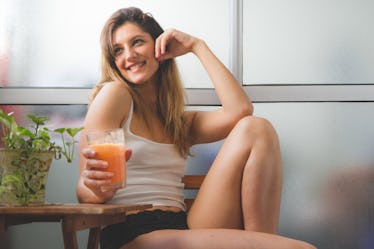 8 Sexy Outfits To Wear At Home & Still Feel Put Together
When I'm at home, I toggle between exactly two outfits. Both include a pair of oversized sweatpants with the Victoria's Secret PINK logo sprawled down the side and a long-sleeved tee with the insignia of a college I've never actually attended. If I'm being honest, I don't even remember how these tees came into my life but it's been about five years since we bonded so I figure we're in it for the long haul. Now, I know that neither of these ensembles qualifies as a sexy casual outfit but what can I say? I'm set in my ways (and I spend a lot of time alone, don't judge me).
Sometimes, I'll get crazy and mix the top piece from one of the aforementioned fashion killers with the bottoms from the other. But beyond that, you can pretty much always find me dressed like this while aimlessly walking around my apartment or, on days when I'm feeling more adventurous, taking my dog out.
Yes, that's right. I go out in public like this. I leave the private confines of my cozy apartment — the absolute only place dressing like this is acceptable — and I grace the other residents in my building with what I can only imagine is the most haphazardly disastrous mess they've seen all day. Then, I exit my building — dog leash in one hand, Starbucks coffee in the other — into the very busy downtown area where I reside. It truly is a sight to behold. Even New Girl's Outside Dave would be appalled and I definitely would never be allowed to sit with the likes of Gretchen Wieners.
The point is, though, when there are other people around — like when you know you won't be waking up alone — you generally want to exert a little more effort in the fashion department than you do on any given weekend morning. While a matching pajama set the night before might trick your partner into thinking you're well-coordinated and stylish, you might not want to spend the entire day in the same thing you slept in the night before.
If you're really looking to make an impression when you're at home with your hookup, skip the sweats and opt for something a little sexier. Something that looks like it took no effort at all to coordinate. Something so simple they foolishly believe you look like this all the time when you're home alone (ha!). Something that'll do this...
Hypothetically.
At the very least, your day-after attire should remind them why they went home with you in the first place — you know, reasons other than your irresistible charm and witty sense of humor.
Not sure where to start? Let me walk you through a couple options I'll be gifting myself (and my neighbors by extension) this holiday season.
We only include products that have been independently selected by Elite Daily's editorial team. However, we may receive a portion of sales if you purchase a product through a link in this article.
This cheeky set is perfect for a day of Netflix-and-chilling.
It also comes in black.
This dainty romper says, "I'm adorable but I can still rock your world."
Seriously, how cute is this?
OK, this is perfection.
Forget walking around the house, can I just live in this?
Pair these shorts with a lace bralette for a simple but cute at-home ensemble.
Your partner won't be able to keep their eyes off of you.
This cropped cami, paired with yoga pants, feels like a step up from my usual VS attire.
Many ~reliable~ sources have confirmed that yoga pants are always sexy.
This matching set is fun and flirty.
You'll feel right at home in this.
This look will make you look like you're ready for your glamour shot.
Kourtney Kardashian definitely owns something like this.
And this is for when you want to show off your bod but you also want to be warm.
Cuffing-season attire, anyone? Get the matching velour joggers for $68.
Just because you and your partner are staying in doesn't mean you can't get dressed up. Any one of these at-home wardrobe choices will make you feel like you're walking the Victoria's Secret Fashion Show even though you're only headed to the pantry for more Nutella.
Check out the entire Gen Why series and other videos on Facebook and the Bustle app across Apple TV, Roku, and Amazon Fire TV.