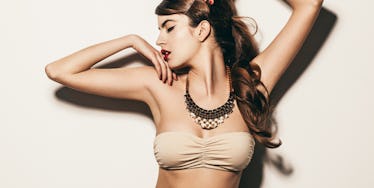 I Had Breast Reduction Surgery, And I'm No Longer Self-Conscious About My Body
Lumina
I'm two months post-op from my breast reduction surgery and I have never felt or looked better.
Not to mention, you can now read every single word on my graphic tees and I can finally wear the cute bralettes that are sold at Urban Outfitters.
Growing up, I always had large breasts, even though my mother swears they appeared over night. I promise they've always been there, I was just always really good at hiding them.
I had personal internal struggles with my weight during and after high school. The size of my breasts was always commented on, and I never knew whether to take it offensively or as a compliment. Being told you have "huge boobs" can really begin to take its toll on you; I started to become very self-conscious of my body.
It wasn't until I graduated high school that I decided to look into breast reduction.
Believe me when I say that I was in the "process" of having this procedure for three years. Who knew there would be so many strict requirements to be met and specific documents to be filled before insurance approved such a procedure.
In most cases, breast reduction surgery, formally known as Mammoplasty, is considered cosmetic surgery. I began to realize I fit for the procedure when I started reading the stories of other girls who had similar issues as myself.
My experience went a little like this: I had an aching pain in my neck, back and shoulders that never seemed to fully disappear, severe bra strap indentions after a full day of wearing a supportive bra and shopping was always a constant battle of trying to find clothes that didn't make me look fat, pregnant or like a slut.
The bottom line is this: Nothing ever fits the way you want it to when you have big boobs. My life literally revolved around old lady bras without padding, and maximum support to keep them all they way up.
Reality was that I was 5 feet 1 inches tall and I had double Ds. Going braless was just not in the cards for me.
Fast-forward to August 3, 2016 (best day of my life).
Now, being braless is all my life revolves around because my incisions don't react well with bras, but mostly because I'm still healing, and believe me when I say I'm perfectly fine with this.
I no longer wake up in the morning with aches or pain, my shoulder tissue indentions are slowly fading away and I no longer have the problem of having to layer on two to three extra large sports bras just to go to the gym.
I'm not going to lie, recovery was rather difficult. I was super sore, I needed assistance dressing myself and showers were my least favorite activity. Thankfully, I bounced back rather quickly.
All that being said, going through with this surgery is the best decision I've ever made. I've gained so much more confidence and I love my body more than I ever thought I would.
Now, I can go shopping and not have to worry about purchasing a larger size for my top. I have breasts that are perfectly proportioned to my body. I have a brand new look, my clothes are a little baggy and I feel 10 pounds lighter.
What more can a girl want? Really just tighter clothes to show off the new bod.
I highly recommend that if you struggle with large breasts, excessive pain and discomfort you should through this same process with your insurance. Sure, it'll be a long and drawn out process, but in the end you'll be thrilled with your results.