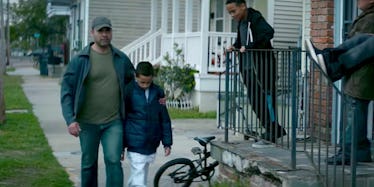 This Heartwarming 'Dad Insurance' Commercial Proves Dads Are The Real MVPs
YouTube
As Father's Day approaches, people everywhere are taking time out to show appreciation for their dads.
At the end of the day, there's no one out there who can replace him. Throughout your younger years when you were still learning the ropes to life, Dad was there to make sure you were safe and protected at all times.
He was pretty much the real-life version of insurance!
In a recent video uploaded to YouTube by American Family Insurance, a beautiful story is told about a father and son that just might make you shed a tear or two. The video begins with a little boy laying in bed. Moments later, his dad walks in and hands him a box. Now, this isn't just any box. This box is filled with something symbolic -- a chance to chase his dreams.
The boy is given a judo outfit. The very next morning, he gets up, puts on the judo uniform and heads to his very first class. His morning walks consist of two things: his dad by his side and a pack of bullies up ahead that taunt him each day.
Rather than losing his cool or having an emotional breakdown, he holds his head up high with his dad by his side as he makes his way over to judo class where he'll eventually build up enough confidence and courage to chase the dream he's most passionate about.
Spoiler alert: It's not judo...
The lesson to be learned here is this: Dad will always have your back, dad will always teach you the necessary lessons and equip you with the necessary tools to make sure you never get roadblocked.
Check out the heartwarming video above for a closer look!
Citations: This touching ad will give you all the feels just in time for Father's Day (Mashable)