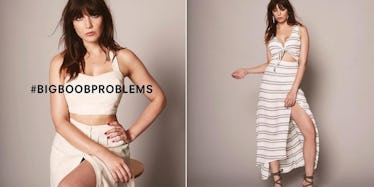 Finally! There's Now A Clothing Line Made Just For Women With Big Boobs
Don't get me wrong, being blessed with an ample rack is great and all.
But sometimes, having huge boobs isn't all it's cracked up to be.
Aside from the obvious things like summertime boob sweat and having to strap those babies down with two sports bras during exercise, one of my biggest problems has always been finding clothes that fit my waist without suffocating my lady lumps.
Trust me, it's a big problem.
Luckily, finding boob-friendly apparel is about to get a whole lot easier, thanks to Yael Aflalo, the creator of the LA fashion label Reformation.
Last summer, the busty brand launched a line of clothing called I'm Up Here collection aka Big Boob Problems, which featured apparel tailored to meet the needs of women with large breasts.
More specifically, the clothes are designed for ladies with full C-DD cup sizes who don't want to forgo style for comfort and fit.
Now, Reformation is back with a second collection and it chose Daisy Lowe, Gavin Rossdale's daughter, to be the face of its brand this season.
Take a look at the pictures below to see the new collection.
All of your big boob problems may soon become a thing of the past...
...thanks to Yael Aflalo, the creator of Reformation.
Reformation knows the struggles of finding clothes that fit when you have big breasts.
So, the brand launched a collection, nicknamed Big Boob Problems that caters to all the full-chested fashionistas out there.
In an interview, Aflalo told The Guardian, "We did a survey, and women said they were proud of their bodies but didn't want to be completely on display. Most of us when getting dressed want to feel beautiful but not like we're objectifying ourselves."
Reformation emphasizes fit just as much as style, so it's not hard to see why ladies love this brand.
The brand just came out with a second line of its bust-friendly apparel...
...and Reformation chose Daisy Lowe to represent this season's amazing collection.
The lookbook features lots of wrap dresses and fitted crop tops...
...and tries to avoid unflattering fits for full-breasted women, like low-cut tops and drapey garments.
Plus, it also has a lot of button down apparel tailored to fit big boobs.
The entire collection has been tested and approved by the company's "titty committee," so you can rest assured each piece will fit well and look amazing.
Citations: Women With Big Boobs, There's a Lovely Clothing Line Made Specifically for You (Cosmopolitan)