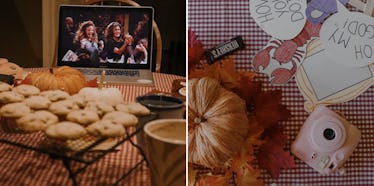 I Hosted A 'Friends'-Inspired Friendsgiving With My Besties & "Oh My God!"
Excuse me, do you have the remote? Perfect. Cue "The One Where We Had Our Own Friendsgiving," please! Then, pass the bowl of mashed potatoes or a slice of pizza my way. (Did we order the Joey special? Two pizzas are better than one, and that's not a "moo" point.) All jokes aside, the most memorable moments in Friends arguably come from the Thanksgiving episodes. Those are the episodes that some of us wish we could be a part of — for the touch football games, trifle-making incidents, and every turkey with sunglasses in between. Well, I hosted a Friends-inspired Friendsgiving with my besties, and in the words of Janice: "Oh my god!" It was a dream come true for every fan of the show.
We recreated Central Perk in the kitchen, and sang our own rendition of "Smelly Cat." There was lots of food and chocolate chip cookies, courtesy of a not-so-secret recipe. Despite throwing everything together at the last-minute, we pulled it off. And you can, too.
Start by gathering up your girls. Find the friend in your crew who's just as free-spirited and quirky as Phoebe; the friend who's super organized like Monica; and the friend who's daring and fashion-forward like Rachel. Then, pick out a '90s outfit, like a crewneck sweatshirt or a pair of overalls, and grab a polaroid camera. Here are some other details from what went down in our episode, just in case you need some extra inspiration.