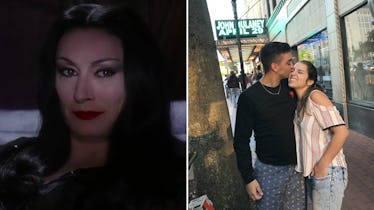 I Flirted Like Morticia Addams For A Week & Here's What My Boyfriend Had To Say
Metro-Goldwyn-Mayer
Fall is here, my friends, and I'm ready. My religious intake of PSLs has begun, I'm searching high and low for those frozen, pumpkin-faced sugar cookies that seem to somehow disappear from every grocery store before the season even starts, and my Friday nights are exclusively reserved for Halloween movies. This year, I started with The Addams Family, and let me tell you: Gomez and Morticia Addams have some serious game. And seeing their exchange of witty lines made me wonder how my boyfriend would react if I flirted like Morticia Addams for a week. Would he find it amusing? Would he even notice anything out of the ordinary? We are pretty flirtatious on the reg, but Morticia Addams is definitely next level.
To see if I could pull off Morticia's iconic lines, I vowed to text my boyfriend, Alejandro (Ale for short), one or two of her smoothest, most clever lines a day for a whole week (without his knowledge, of course). I started with one of Morticia's more subtle lines and worked my way up to some that were a little more "out there." Surprisingly enough, his replies remained relatively the same, despite how, um... intense the lines got near the end of the week.
A few disclaimers: We're one of those obnoxious couples who have eight different conversations at once, so don't be alarmed by the big blobs of text. I also had to tweak a couple of Morticia's lines a bit to ensure they really made sense in the context of our relationship. Warning: You may cringe. We really are that cheesy on the daily.